I call the area outside of Pip and Caper's stall the goat paddock. It's where they spend most of their time. Yes, they have a pasture filled with grasses and briars and pine trees, which they do like to eat. But they also get a flake of hay a day, so hunger doesn't drive them out in the morning. They leave the paddock when they get bored or when they have a twinge of stomach rumblings. They forage several hours a day. However, the goat boys prefer to stay close to home. They like to chat with the hens and Phoebe. Caper stands in the corner of the paddock and watches the house. If he glimpses me while I'm at the kitchen sink he bleats for me to come out. (Do you see the screen porch? He looks through that to a window. Really. Goats have very good eye sight.) So, despite the fact that they have plenty of space, the boys spend most of their time standing around in just a couple of spots close to the barn.
Although the goats mostly stay near the barn, you might not see the boys on the GoatCam because they sometimes stand on the big rock, gazing out, as if they have plans. Which they don't.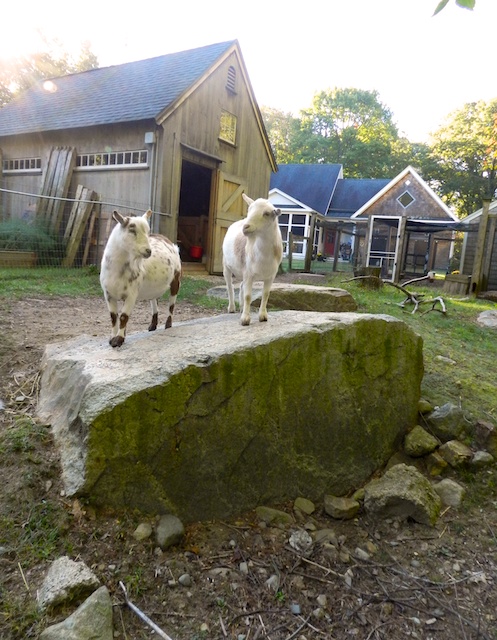 Or, they might be scratching their bellies on the smaller rock.
But, usually, they are standing and staring at the house. Waiting for the Goat Maid. The ground where they stand is bare and packed down. Goats pee and poop a lot, so you can imagine how nasty it would get if I didn't clean it up frequently. In order to minimize smells, flies and to prevent parasites from multiplying, I keep the area as tidy as possible. But, it'll soon be muddy and partially frozen, which makes cleaning difficult. Goat manure comes out like ever so many bouncing beans. It can't be shoveled or raked, it needs to be swept up which becomes impossible in the winter. The goat paddock needed improvement, and so I put the human teenage boy to work.
Last weekend he laid paving stones and more than doubled the area of the goat patios. See the "goat berries?" Now I'll be able to easily sweep them up!
Where there had been mud mashed with manure, there's now a tidy surface. The goats like it. They hate getting their feet wet. This winter I'll be able to shovel that space, and they'll be able to stand there to talk with their friends.  (Do you see Phoebe in the pen?) Every evening she and the goats have a confab by the fence.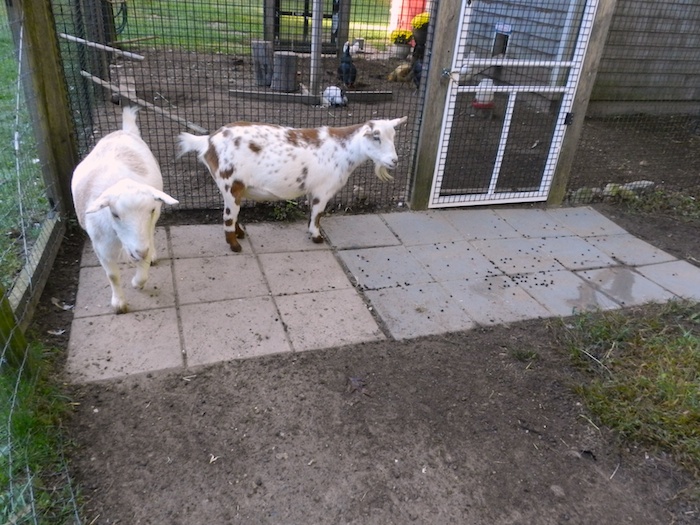 The teenager was paid for his efforts. He's saving for some computer thingy that I don't understand. But that's okay, because I have some more improvement projects to send his way. Win-win all around.