I recently heard from a reader who had a very sick chicken named Norma. The hen was listless, left greenish poo, and her comb turned darkly purple. After a dose of epsom salts per my spa treatment (this hen was given this orally) Norma revived a bit, walked about and began to eat again.
She then expelled something that looked quite alarming to her owner. This: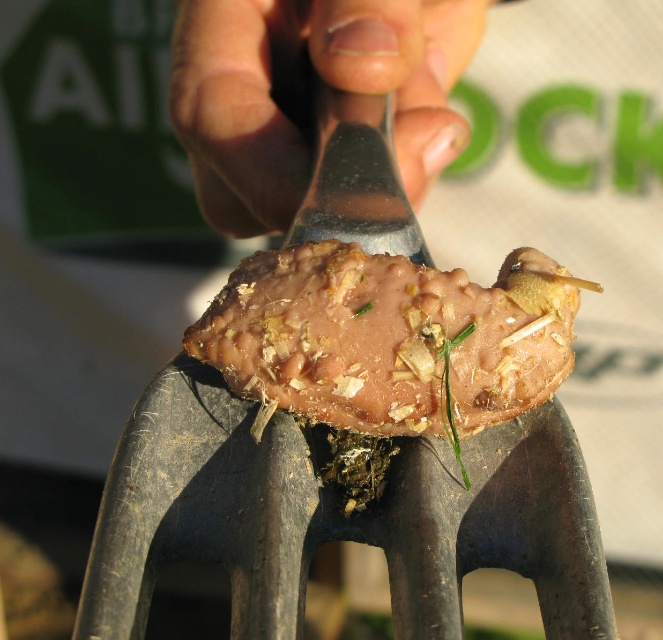 This is a lash. I don't know when I first heard the term lash. I believe it was on a British poultry forum. I have tried to trace it back to its origins, but can't find any solid information. There is nothing about lash in any of my poultry keeping books, not in Gail Damerow's tomes, nor in my vintage guides. What I know about this comes from my hands-on investigations. I do necropsies and have seen such masses inside of chickens. It is not, as is often erroneously claimed on internet forums, a piece of the reproductive tract. It is not a tumor. It is composed of eggs that have become compacted and possibly infected. I've seen them small as jelly beans and as large as my fist. Sometimes, when you cut into a lash, there is the yellow of yolk. Sometimes it is built of all whites. Sometimes there is a membrane from a shell. Depending on where the lash is in the hen's body determines how severely it affects the chicken. If it stays in the reproductive tract and isn't too large, it might block things for awhile, but then with the laxative effect of epsom salts, it will pass, and the hen, much relieved, will revive, as did Norma.
But, sometimes, there is a rupture in the reproductive tract and the mass passes into the body cavity. (I have been able to find information about ruptures in my resources.) Many eggs can accumulate there, each solidifying from infection, and pressing on the hen's organs. I've seen hens look ill, recover, and look ill again, as these masses shift and block functions, and then move again out of the way. Siouxsie lived with one, likely for two years, before she died of it.
Sometimes the hen doesn't have a ruptured tract, but her eggs are pushed up the oviduct and out the infandibulum near the ovaries (instead of down and out the vent and into the nesting box.) These eggs are usually shell-less can cause a build-up of fluid in the abdomen (once infected they contribute to cases of peritonitis.) This is often the cause of internal laying. Sometimes, they harden and become like the mass you see in the above photograph.
There is no knowing whether your your listless hen is suffering from lash by looking at her. Many other diseases cause a hen to droop or stand like a miserable penguin. There is also no way of knowing if it is one small lash, like Norma expelled, or whether her body is filled with them. But, the course of action is the same. Do the spa treatment. If the blockage can be passed out, then this will help. If you don't see a change within 48 hours, then there's not much to be done. You could try a general antibiotic like Duramycin. That might prevent internal laying from turning into peritonitis, and it can possibly stop the lash from getting infected. But you never know. Perhaps there is no lash, perhaps it's something else. I have been surprised by what I've found doing necropsies. The range of ways that a hen shows illness is small compared to the many things going on inside of her.
Expelling a lash can be a one-time occurrence and the hen might go on to live for another year of laying. Or, it could be an indication that something is very wrong with her and it could be the beginning of her decline and demise. Give her a soak in epsom salts, and let her live her life with her flock. That's what Norma's owner did, and her comb is back to red and she's back to her old self. Norma might decline again, but, that's how it is with backyard laying hens. You give them a good life and do the best you can.
note: If this post has been useful to you, please consider sharing it with your own poultry community. I'd like this information and my writing to reach a larger audience. Thank you.