The five pullets have settled right into their coop at the nursing home. They seem to be getting good care. I've stopped by a few times, and they've always had food and water, and their bedding is clean. It can be a tad boring in their run, so I brought them a present of a treat holder. I've left instructions for the staff to give them something fresh each day.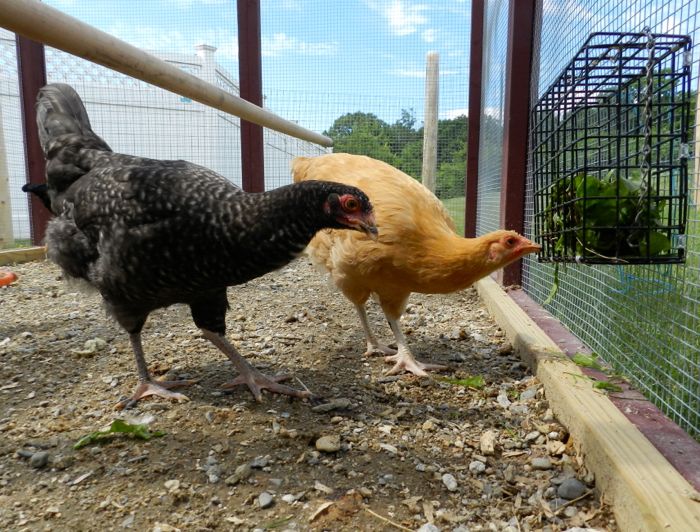 I'm still working on protocols for chicken care at a facility, and tweaking the housing so that the chickens will get consistent attention, and so that the residents can best interact with the birds. Fortuitously, a young man named Richard, who has just graduated from college and is applying to medical school, lives nearby and is home for the summer. He has volunteered to work with a few of the clients, bringing them outside to engage with the pullets. He has a scientific mind and will be attempting to quantify how having these animals affects the lives of the residents.
I taught him how to pick up a chicken, and how to teach them to come. When he's there, the birds will be able to get out into a grassy, fenced area.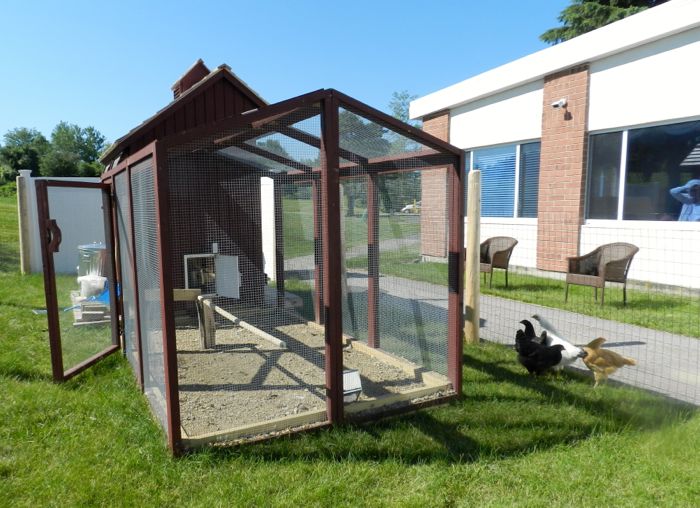 Notice the woman looking out of the window. She's in the common room for the memory loss residents. Already the Director is noticing that they are looking outside more; the chickens give them something to think about and focus on.
Because of patient confidentiality, I can't show photos of the residents. But, I'll be posting more about this project, and the coop, in the weeks to come.
I am available to consult with other institutions to help them bring chickens onto their properties in order to enrich the lives of their residents. I also have an entertaining hour program about chickens geared for nursing homes. I bring a chicken! Please email me if interested.