All flocks of chickens have social structures. There are hens that get the food first, and others that eat on the fringes. Some chickens sleep on the top roost, others just below. But on a daily basis, the dynamic should be peaceful. If you watch my Gems, you'd be hard put to know which hen is the highest in the pecking order. It was all sorted out when they were chicks, and now, as a mature flock, there are no squabbles that you can see.
The new group of pullets have already figured out who is dominant (Veronica) and who is not (Twiggy.) There's no bloodshed or overt aggressiveness, just a bit of body language. I carefully raised them so that this would be the case. Early on, they had things to peck, like dirt clods and winter squash, which kept them busy and taught them to peck at things other than each other. They have plenty of room and resources so that they can move off instead of fighting.
The old hens, Buffy, Edwina, Twinkydink and Betsy, did not have such upbringings. Buffy came here as an adult, she had been bullied by her flockmates, and rehoming was a reprieve from certain death. Edwina and Twinkydink arrived as older chicks, Betsy came as a pullet. Twinkydink and Edwina were always dominant hens. That's okay. But, Edwina is also domineering. When she can, she pummels others. I have had her for eight years and she has always been a bully. I've seen her pin down a chicken and peck at the head, not letting up when the other cries uncle. A dominant hen will chase another away from the good food, and then go on eating. A domineering hen will keep chasing and physically attack. That's Edwina. Because my pens are spacious and have outside roosts and several feeding areas, I've been able to keep Edwina's behavior in check. But, she's been attacking Buffy. Buffy, old and weak, can't escape. Edwina has also been terrorizing the pullets, which is why you rarely see them on the cam – they've been hanging out around the back of the coop, avoiding the Barred Rock. I'd had it with Edwina. I put her in with the  Gems.
Edwina and the Gems know each other. They've walked past each other when free-ranging. Edwina is familiar with their coop because she lived there before the Gems arrived. I set Edwina in. LIke the dominant hen she is, Edwina started eating immediately.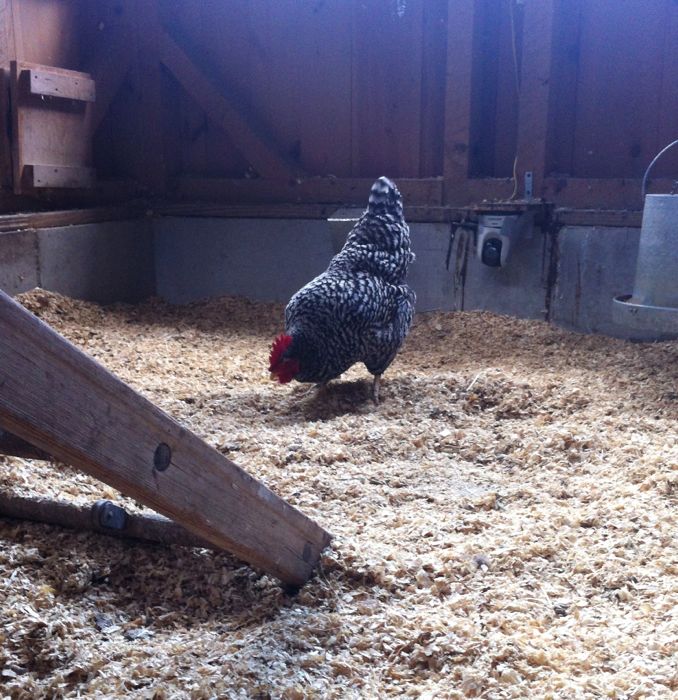 The Gems looked in the pop door. They had a loud discussion about what to do about Edwina on their turf.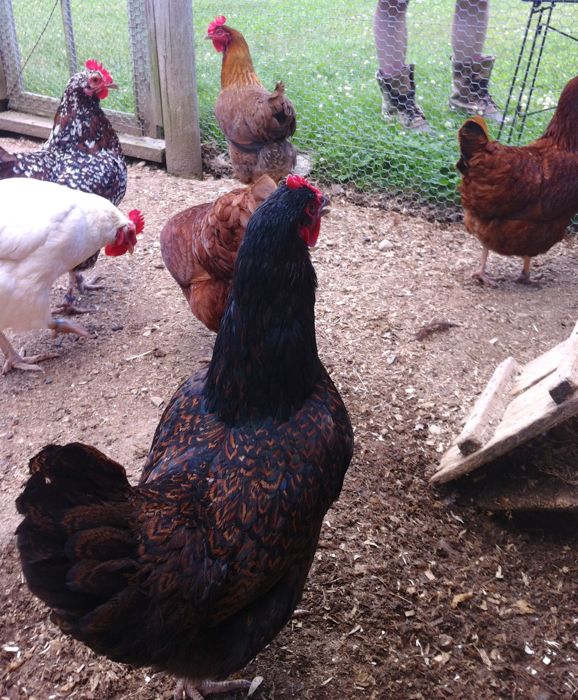 Edwina strode outside.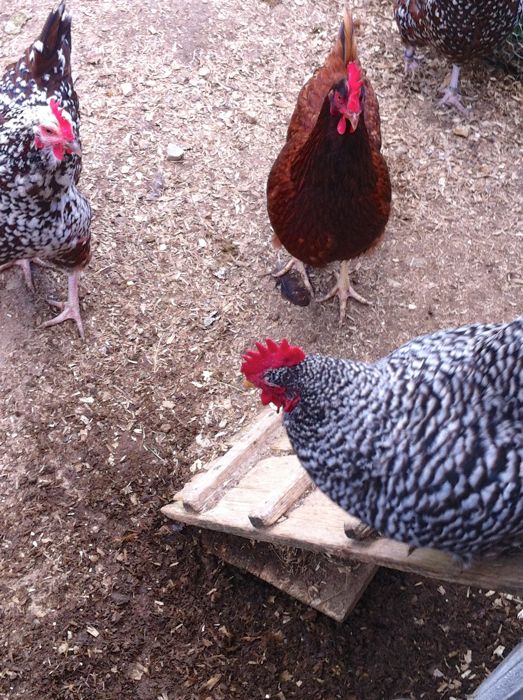 Onyx, the lowest status hen of this group, huffed up. She chest-bumped Edwina, who backed off.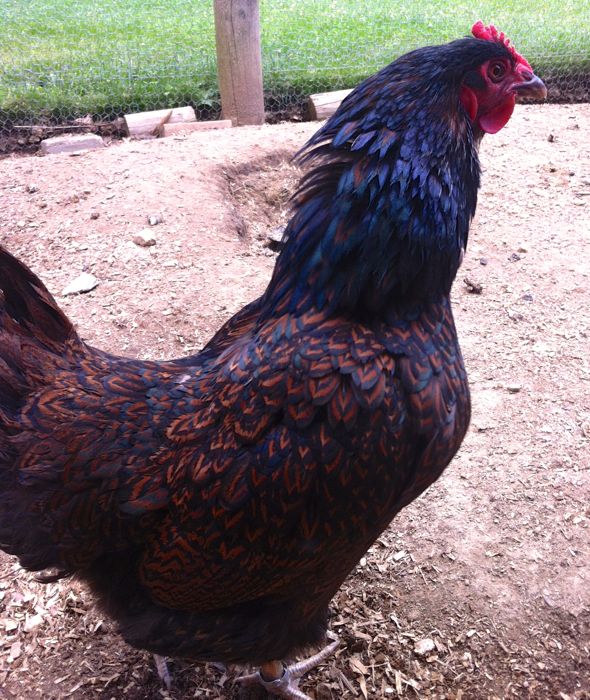 But, Onyx, who was trying for dominance is not domineering. That one chest bump was enough for her. The Gems turned their backs on Edwina. Edwina is fortunate that this was the case. Not all flocks would have been as welcoming (and this is very welcoming for an established group to allow an interloper onto their turf.)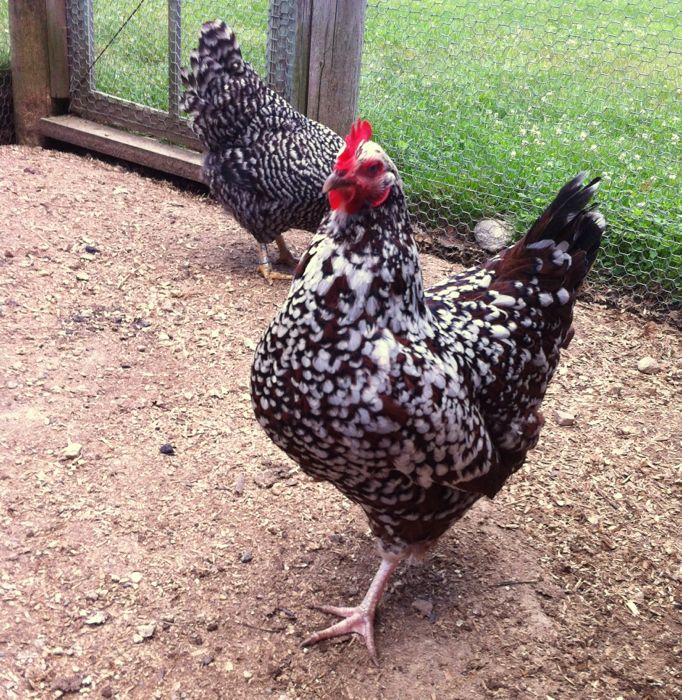 The Gems went back to scratching around in the compost. Edwina was left to stand around the bare, boring part of the yard. Too bad, Edwina. No one feels sorry for you.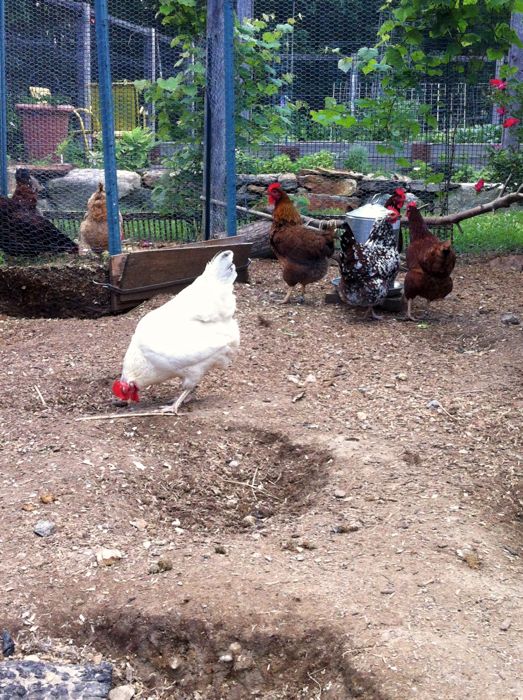 If you have a  domineering hen, one that is endangering the lives of others, and you don't have a flock of Gems to toss her in with, you can still change the dynamics. Put the bully into a coop out of sight of the others. Leave her there for four days, (with food and water, of course.) When returned to the flock her status will be lowered. This often works, and is worth a try.