Protecting chickens from predators is an on-going concern. Hungry animals come across the lawn, they dig under fences, and they fly into pens. I know of no fenced run that is predator proof; a weasel can squeeze through a two-inch gap between the fence and a door. A fisher cat can rip off hawk netting. The danger is worse at night and I believe that you should close up your hens as soon as they've gone in to roost. Pop doors need to be secured from the inside because a raccoon is capable of prying open a latch.
The danger of a predator attack begins at sundown, but as much as I want to shut up the barns right at sundown, I'm not always home, and I'm not willing to have my schedule be totally dictated by the animals in my backyard. LIke many things in life, I balance my needs against the risks.  An automatic door closer can help. These electronic doors open and close at sunrise and sunset, and are either on timers or are light sensitive. I know of plenty of people who rely on them.
However, in all my years of keeping chickens, I've never used an automatic coop door closer. For the first 8 years I didn't have electricity in the henhouse. Now that I do, I also have goats and a rabbit and dogs, all of which all need attention and require my presence. I'm always home within a few hours of sundown, if not, I have someone stop in to check on the animals. Also, Candy, having a wicked sense of bunny humor, used to sit on the pop door ledge and block the hens from going in at night. I worried that if I did use an automatic door, that the girls would have been stuck outside. Also, a rabbit needs to be secured safely in her own hutch – not something an automatic pop door can do!
Despite not having automatic doors here, when I thought through how to protect the hens at the nursing home, I knew that an automatic door was a necessity for that flock. Although the coop run has hardware cloth all around, there are gaps near the door into the run that wouldn't provide nighttime protection.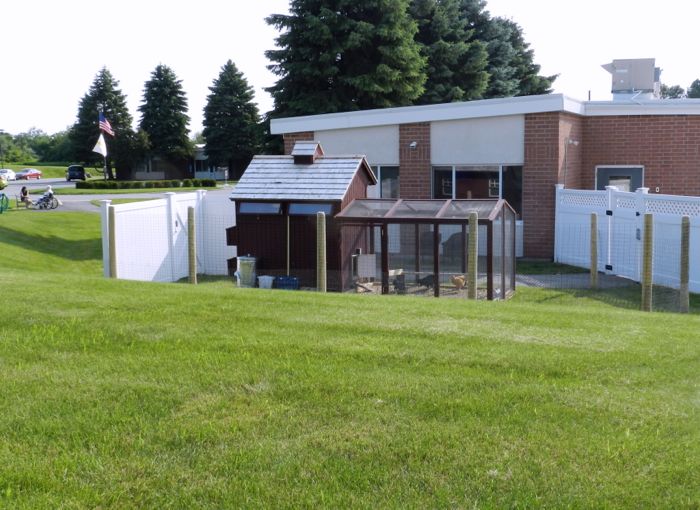 Also, staffing changes daily, as does the time that the coop needs to be secured at night, and opened in the morning. An automatic door solved that scheduling issue.The coop was purchased prewired for electricity, and an automatic chicken door was installed.
Chickendoors.com is the manufacturer of this automatic chicken door.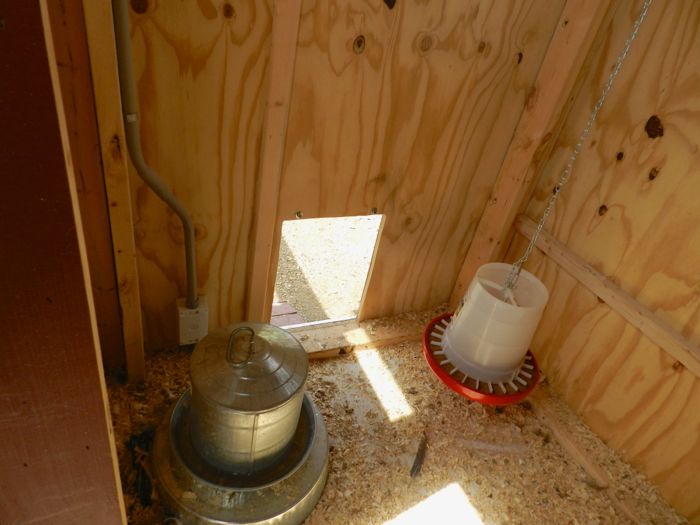 It has several nice features. If the power goes out, it will run on reserve battery power. It's made in the USA by some really fine people. You can chose to have either a timer or a light-sensitve opener.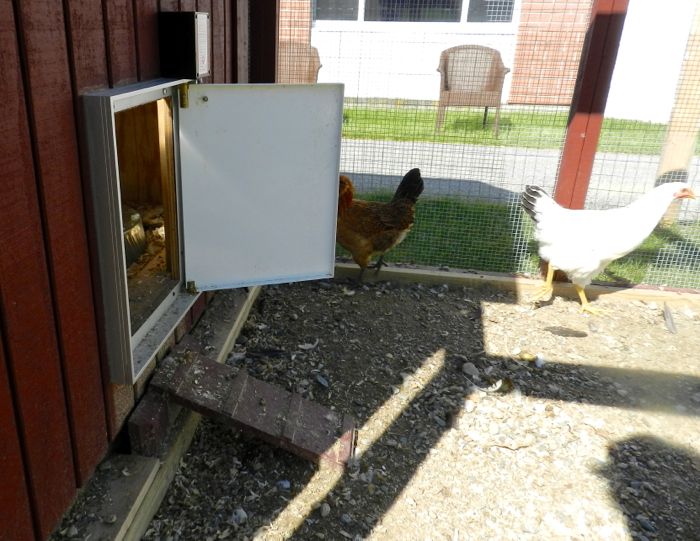 You can select a right or left opening door. I ordered the wrong one, which will be replaced, so that the view of the chicken ramp isn't blocked.
There are plenty of other options out there. Some doors slide up. There are YouTube videos about how to build your own. Let me know if you have experience with an automatic pop door. Now if only I could figure out how to close the rabbit up at night… and the goats…