I was away at a conference this weekend. I was gone for just an overnight, but the days were so jam-packed, and my head was so filled with conversations and things to think about, that it felt as if I'd been away for weeks. When I came home, I looked out at the Old Girls' pen, saw this and thought I must have been away for as long as it felt.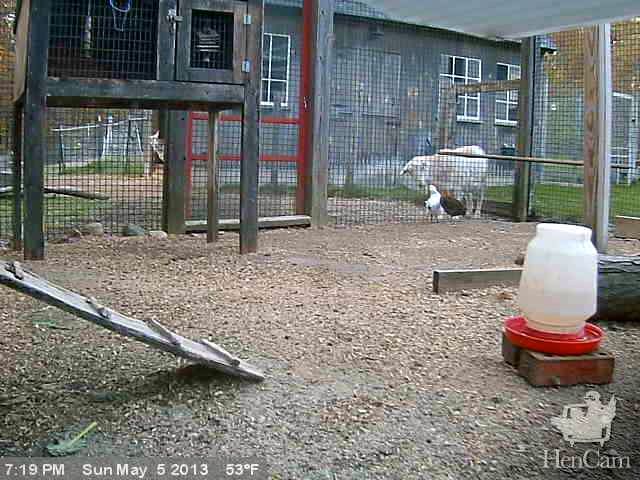 There was Betsy, saying good-night to Pip. But, something about her stance didn't look right. A closer look revealed that it was one of the Delaware chicks talking with her goat-friend. The chick was as large as Betsy!
Only two days away and I no longer had babies in the pen, instead there were birds that looked fully feathered and that were only slightly smaller versions of their mature selves! This morning when I went out to care for the animals the temperature hadn't even reached 40 degrees F. Cold. Some of the chicks were sleeping under the heat lamp, but many were not. I have the brooder door open to the Big Girls' side, and some chicks were already in the coop. Their sturdy, glossy outer feathers were keeping them warm. They no longer need the protection of the brooder except during the coldest hours of the night. I opened the pop door and they hurried outside. Two chicks have already learned how to sit together on the roost! It's a good thing that I have plenty of room, as there is some chest bumping, and ruffled feathers and arched neck challenges as the chicks sort out who they are as they grow up. But the tiffs don't turn into anything serious because there are enough resources to share and because they have the space to communicate and then move away from each other. (Is there a lesson here for us humans? Likely so.)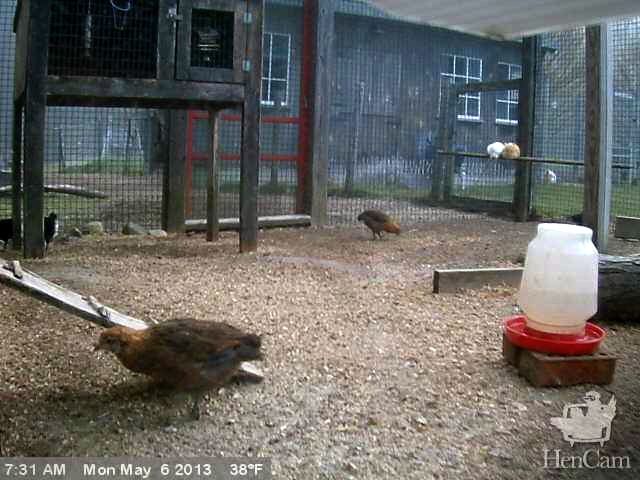 The chicks that I'm not keeping for myself and for the nursing home will be ready to go to new owners in two weeks. I will be selling twelve pullets. $20 each. I will sell all to one person, or will divide into two groups. They will not be sold singly. Preference is given to those who have taken my chicken keeping workshop (or coming to the one in June) but I'll consider other homes. Email me if interested.