Horseradish never used to be relegated to a little jar inconspicuously shelved in the refrigerator case in the supermarket. Horseradish, grated and turned into a relish or a sauce, was a frequent accompaniment to roasts and chicken, and a welcome spark of flavor in an otherwise often bland diet. Because horseradish is a long-lived and exceedingly easy to grow tap root, it was standard fare found on most rural tables in northeast America. My family didn't come from that American farming culture, rather, my grandparents were immigrants from Russia, where horseradish was a year-round condiment. In the springtime it had a place of honor at the Seder table (a Seder being the home-based ritual and dinner celebrating freedom from slavery.)
I grow horseradish. My patch is at the periphery of the vegetable garden, as horseradish can become invasive. This is what it looks like early in the springtime. Only last week it was covered with snow, but now it's shooting up green stalks, soon to unfurl into large leaves.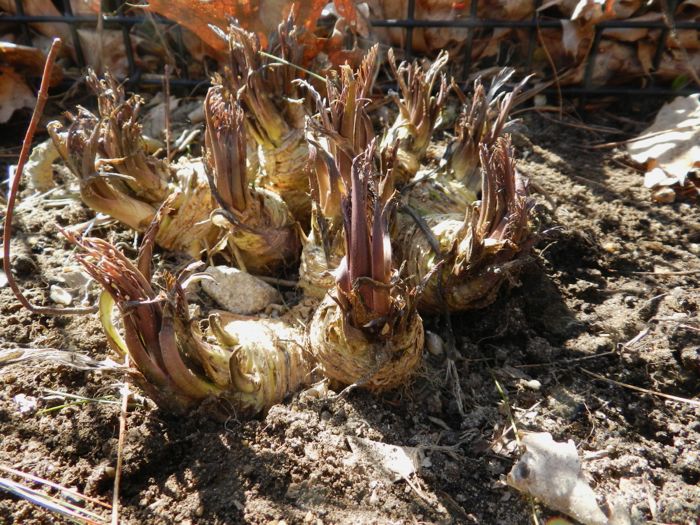 Dig down a bit and you'll find the long white root. It takes some pulling to get it out.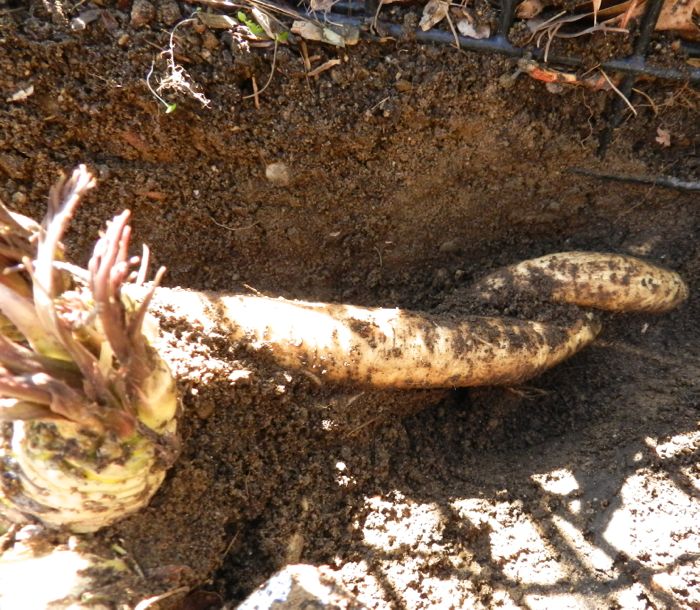 The tops aren't edible – at least not by people, but the goats love them!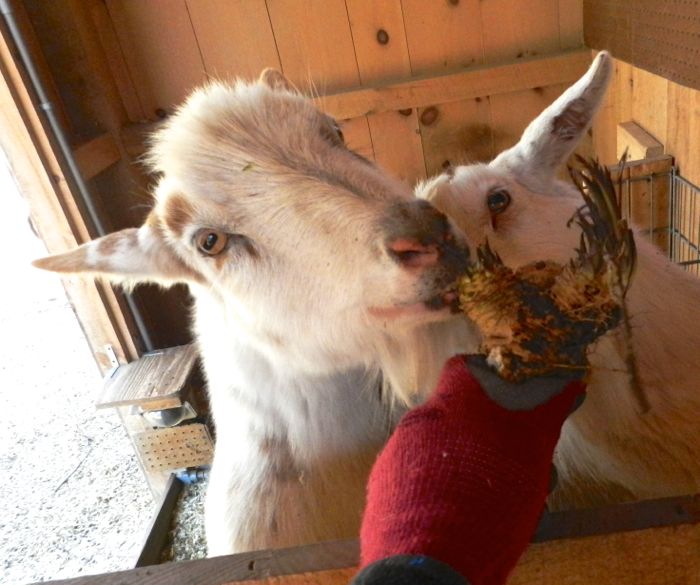 They also like rubbing their heads against the root. It feels good and has a pungent odor that, according to goats, is the finest of perfumes.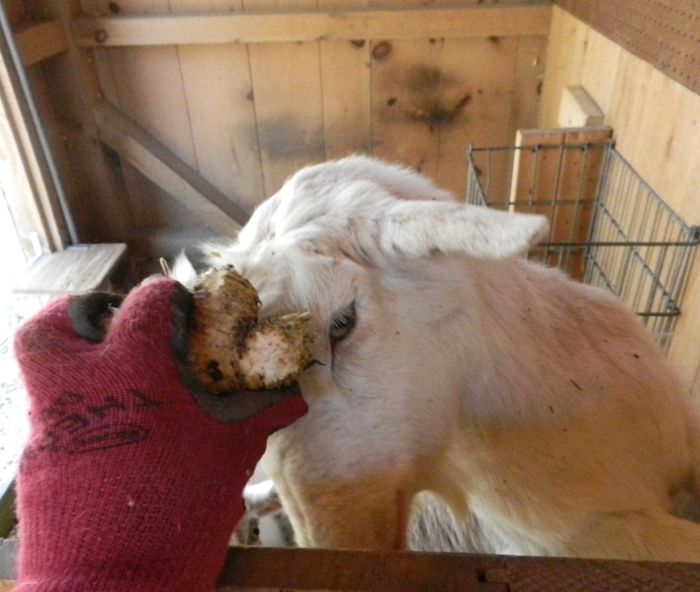 The root needs a thorough scrubbing.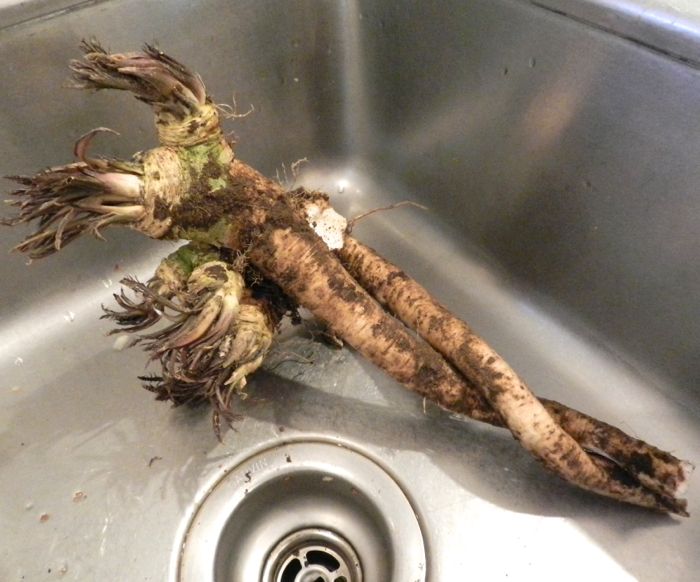 The ends are cut off (save the tops) and the root is peeled. Meanwhile, I've also peeled a large, raw beet.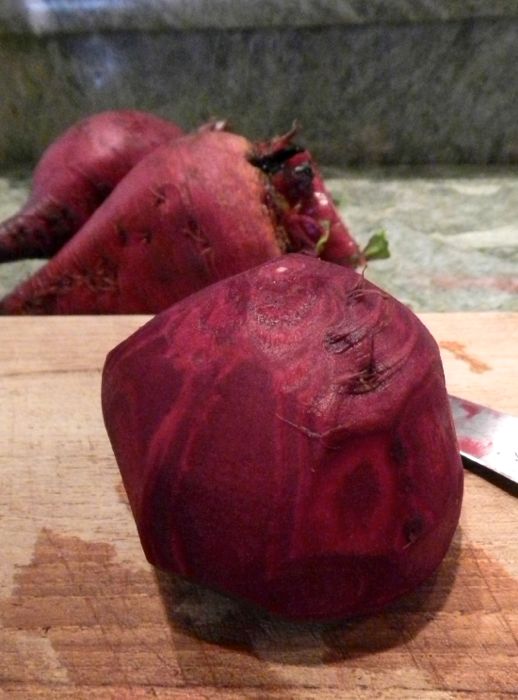 The beet and the horseradish are cut into chunks and put into a food processor. Good white wine vinegar is poured in (enough to bring the puree to the right texture) and a hint of salt and a bit of sugar is added.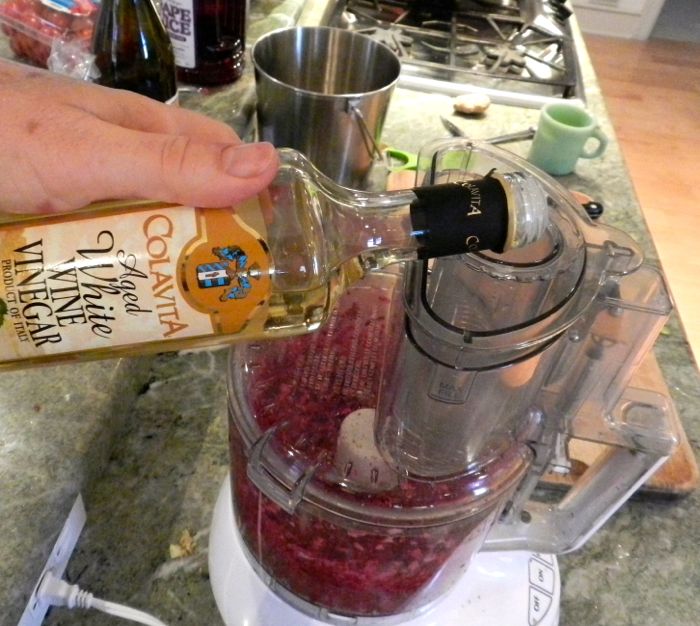 Here it is on the Seder plate. It is called Maror, and is delicious with Charoset (a nut and apple mixture, seen on the bottom right of the photo) and gefilte fish. We also ate it with roast chicken.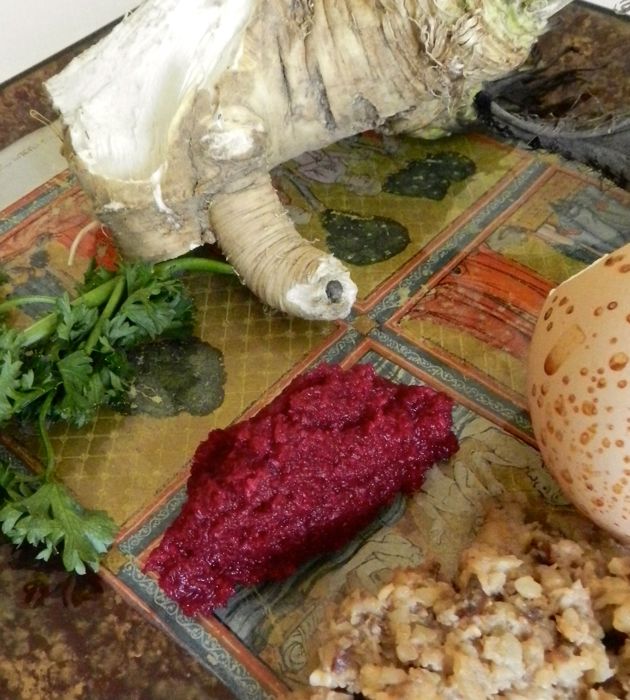 I sent the tops home with our guests. All they have to do to start their own horseradish patch is to tuck it into a sunny spot in their yard. Simply put it in a hole and cover up to the rim with dirt.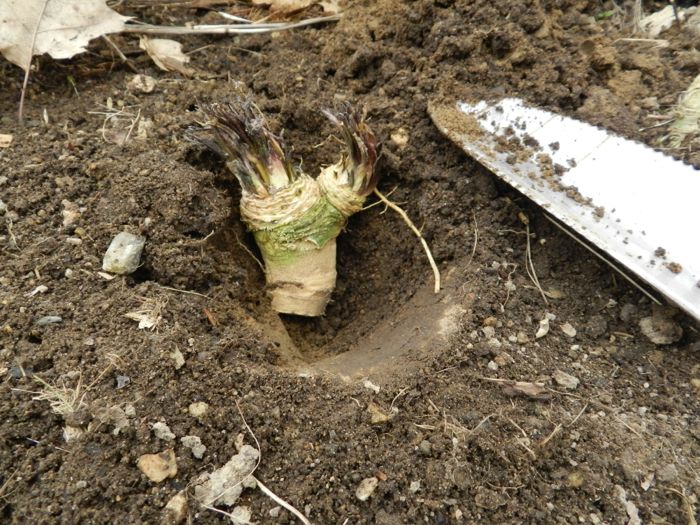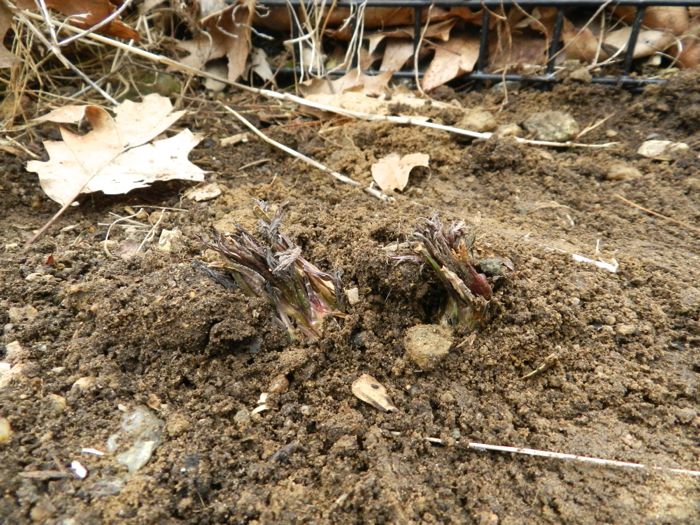 I don't have to worry about the horseradish taking over the garden. My goats keep it in check, as they love eating the leaves. I don't think that my friends will get goats to control their horseradish patch. But, they've already decided where to plant it – a spot at the edge of their yard where the distinctive large leaves will look good.
Who grows horseradish and how do you cook with it?