You might have wondered why the view in the BarnCam is skewed like this: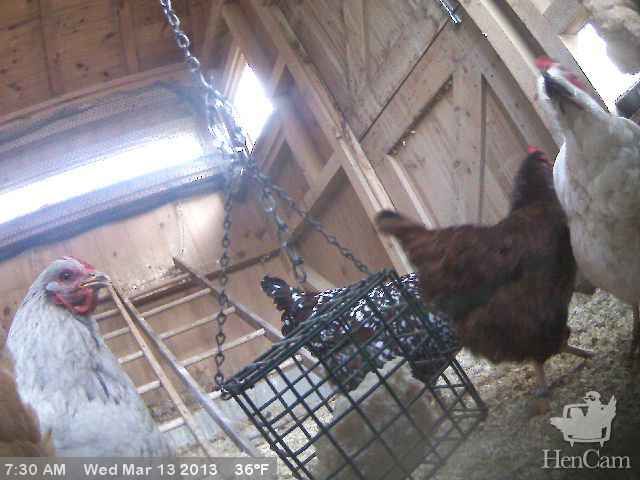 The Gems are large and active birds. With all of the snow and rain, they've been indoors. A lot. They're bored, but bored hens don't just stand around. They still strut and scratch and roost and peck. To keep them busy, I hung a slice of cabbage in the suet holder. It's worked, somewhat. They've remained healthy and I've not had any aggression issues which occur in confined hens that are crowded. Still, their combined energy did the BarnCam in.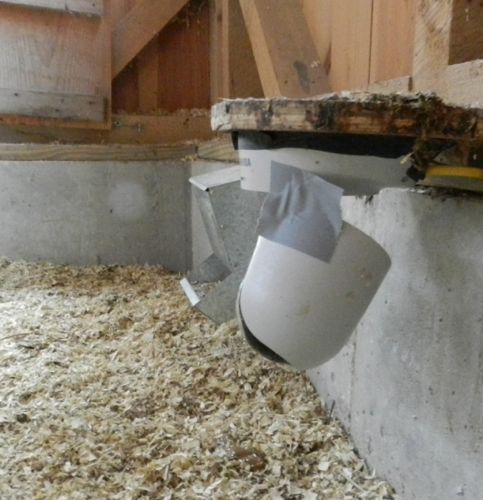 Our cams aren't the type that you can purchase cheaply at Radio Shack and use with your home computer. Ours are professional surveillance cams. This one, (the one hanging over the chicken manure tacked on with duct tape) cost $500. They last only about two years before needing replacing. Obviously, Steve is about to do some cam shopping. For the technical details of how our system works, read this FAQ.
Luckily for the Gems, and for the BarnCam, we've had a spell of mild weather. The lawn is visible – well, at least a few stretches of bare ground. The Gems will get to free-range this afternoon. And Steve will get out the roll of duct tape and see if he can patch things up for awhile longer.