Lately I've been fielding questions about hens that are losing their feathers now, in late winter. This is not molting season. In many places (like here) the weather is frigid. It's not a good time for a hen to look like this: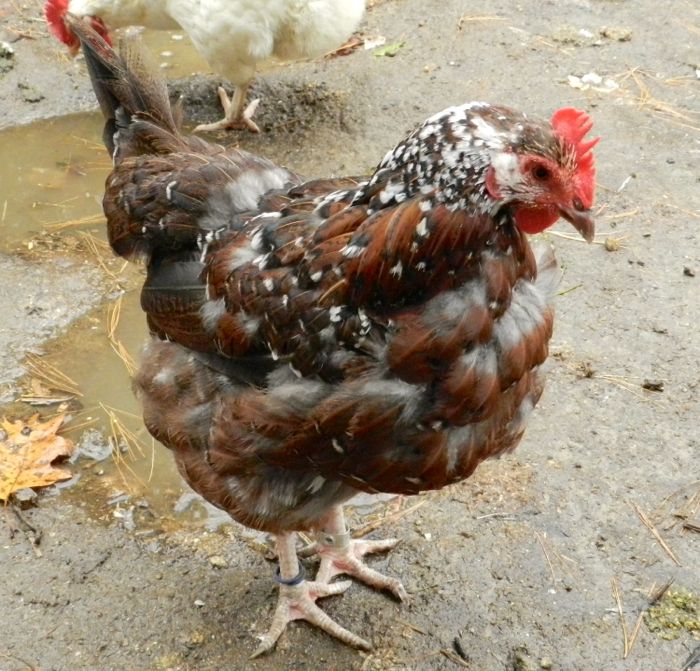 The best layers molt late in the fall, not in the coldest months of winter. So, what's going on?
A molt can be a sign of stress and/or disease. So, do observe your molting hen's behavior. Is she eating and drinking and acting normally? Check for signs of external parasites. There might be something amiss.
But, in the cases that I've been hearing about, the hens are fine. What's happening is that people, in their desire to get chicks at a time convenient to them (but not what farmers saw as prudent in the past) , are buying birds that hatched out of season. Mail order hatcheries are selling chicks year-round. If you bring your chicks home in September, then their first molt will be in the worst weather of late winter, and you won't see eggs again from those hens until early summer.
In the past, when winter eggs were pricey, a farmer's profit would be made from the good winter layers. Chicks hatched in the spring and were carefully matured so that the first year they laid through the winter, and in the second year molted in the fall and provided eggs again as winter waned in February and March. There is nothing in my extensive collection of vintage poultry manuals that gives advice about hens molting in the winter because it just wasn't done.
Let me know if you have hens that are molting now, and let me know how they're getting on.