This is the view from my home office window. I took this photo yesterday morning. Do you see the fox?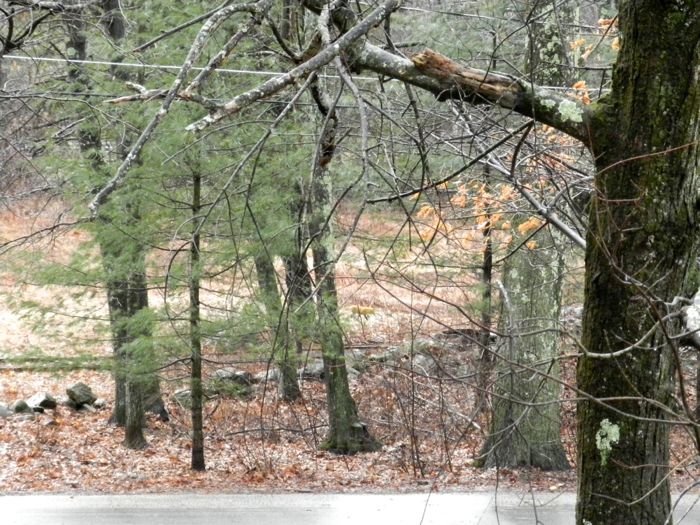 Here's a closer view (taken with a zoom lens from inside, through a screen.)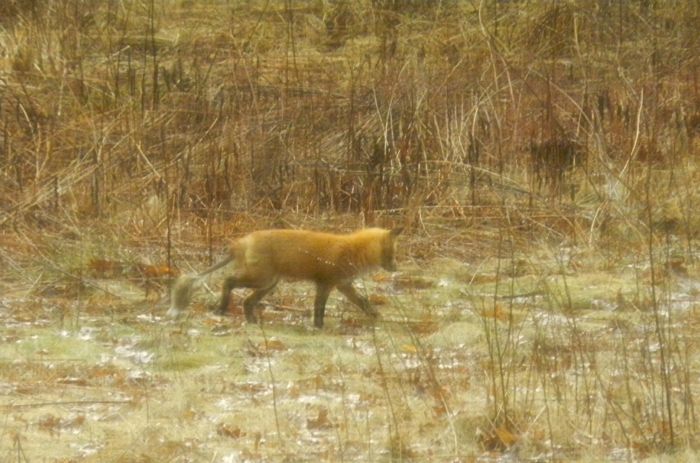 I wonder what happened to its tail. It's a hard life, even for the predators. I watched this fox leap and pounce in the tall grasses, likely hunting voles and other small creatures. Even in the act of killing, a fox is charming and beautiful. It was a warm day, and the snow had melted away. I was going to let the girls out, but I did not. A fox would rather fill its belly with one large chicken than a multitude of mice.
I have heard several very sad stories lately of entire flocks decimated by predators. I've been told of favorite hens taken in the night. Do not underestimate how hungry the predators are. Do not think that your fencing is secure. Years ago, I learned the hard way. We had installed chicken wire 5 feet high, and buried 6 inches underground. Hawk netting was tightly secured above. In the hot summer we left the windows and pop door open, thinking that the hens were safe. We'd never had a problem. The fenced coop was inside of a fenced backyard. I had a good dog who kept predators away. One night a raccoon climbed up, ripped the netting off of the enclosure and strode right into the coop. She killed four hens.
You might go for a couple of years without a predator attack and think that your hens are well-protected. I know someone who surrounded the coop with a sturdy dog pen; it was even enclosed overhead with the wire panels. A weasel slipped through the 2- inch gap in the gate.
Learn from my experiences and not your own heartache. Close your hens up at night. Latch them from the inside. Plan for daytime attacks, too. Even if you free-range your chickens, build a coop and pen that is spacious enough so that the hens can be kept enclosed. There will be days when foxes are hunting nearby.