I've placed an order for 25 chicks for delivery the first week of April. I've purchased them through a mail order hatchery. In 1880 if you wanted more chickens, you hoped that your broody hens did a good job. By the first decade of the 20th century, you might have had your own kerosene heated incubator and were able to substantially add to your flock, and maybe sell to your neighbors (and buy a puppy with the proceeds.)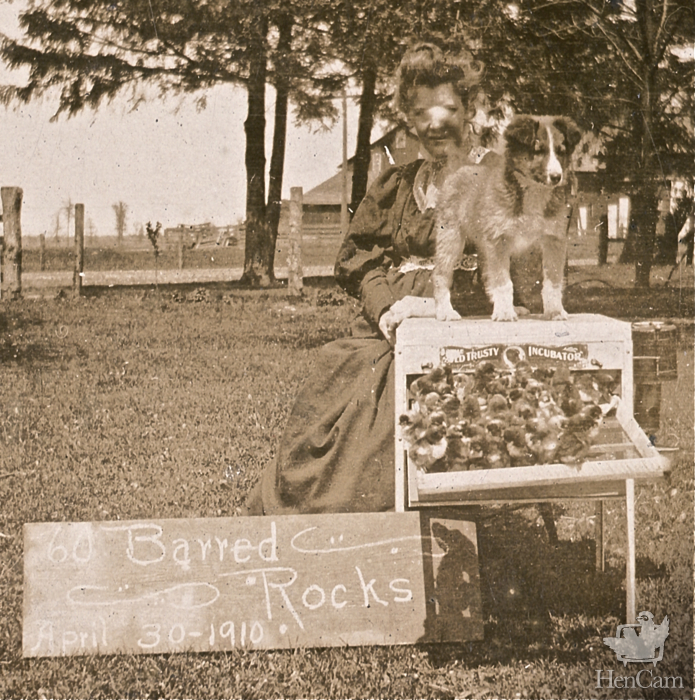 By 1917, when the postal service changed its regulations and permitted chicks to be sent through the mail, it opened the way for poultry men and women to start hatchery businesses. It meant that farmers could purchase purebred chickens to improve the productivity of their flocks. It allowed for a farm to have hundreds, if not thousands, of chickens. Eventually, that led to millions of chicks hatched for factory "farms" and closely guarded breeding stock that is not available to the rest of us. But hatcheries still exist for the small farmer and the hobbyist. Some specialize in one or two varieties, and some have developed their own hybrids for sustainable farms. Others breed a veritable rainbow range of chickens for the backyard keeper, like myself. There are also suppliers, like MyPetChicken.com, that act as middlemen for a number of hatcheries.
If you are interested in just one type of chicken, and want high-quality stock to show or breed yourself, then I suggest purchasing from someone who specializes in that breed. If you want just a few chicks, and aren't too particular about the selection, you can probably pick them up at your local feedstore (which likely got them in from a big hatchery.) But, if, like me, you want a wide range of breeds, and you want them all to arrive from the same hatchery on the same day (more about why in another post) then you'll probably go to one of the big companies. Murray McMurray happened to have the chickens I wanted, when I wanted them, and so I've ordered from them.
Chicks survive surprisingly well when shipped in a small cardboard box through the mail. But, the trip is not without perils. Hopefully, the box has been handled gently. If tipped, the chicks can pile up and suffocate. It's best to ship the chicks in the spring, when the weather is not too cold and not too hot, as extremes can cause fatalities. When a chick hatches, it still has some of the yolk inside of itself, and gets nourishment from that for up to three days, so you don't have to worry about food or water until they get home. But, by the time they reach the post office, time is of the essence. It's important to be available the day of their arrival, so that the little ones don't have to wait in the mailroom (you have to pick up, the mailman doesn't bring the box to your door.) I'll let the folks at the post office know I'm expecting a delivery, and they'll call me as soon as the chicks arrive. It's important to have your brooder up and ready. My order will arrive the first week of April, and in the weeks up to then I'll share with you how to prepare for and care for chicks.
Later this week, I'll let you know what breeds I ordered, and why. Until then, keep guessing!