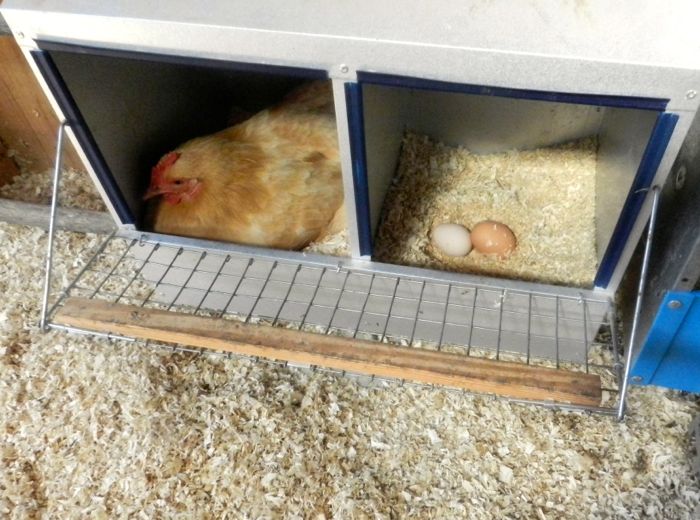 I keep two flocks, one young and one old. I keep records of how many eggs are laid daily. Look at those numbers and they will tell you much about my chickens.
In January of 2012, there were 12 hens in the little barn. The best layers were the hybrids, and not yet four years old. Others were nearing six and even seven years of age. By the end of the year there were only five hens in that flock. The productive layers had died (as the high producers often do around three years of age.) A few of the old hens also died. The remaining hens are sturdy and healthy, but quite old and rarely lay. I collected a total of 151 eggs from the small barn in 2012. That's all. In June, laying in the little barn peaked and the hens (there were eight at that time) supplied 29 eggs for my table. For the last four months, the remaining hens molted, and the nesting boxes have been empty. I'd be surprised if these old hens resume laying in the spring.
A different story was seen in the big barn where the Gems live. Hatched in the spring of 2011, they began laying that September, and continued to lay through their first winter. The 2012 year end count for the Gems is 2,103 eggs (175 eggs per bird per year, although some individuals laid far more, and some almost none.) March was their most productive month, with 247 eggs laid. That's an average of 20 eggs per hen for that month. Those numbers declined come summer, when some hens went broody, and others languished in the heat. Then, beginning in late August, production dropped further. Sundown came earlier each day, which had some effect, but that's not the full story. December of 2011 the Gems laid 160 eggs. This year it was only 36. That's because the Gems, now mature hens, went through their first molt. They began losing their feathers in August, and are only now looking fluffy again. Despite looking good, the molt isn't done yet as they're still growing new quills and putting their energy into rebuilding their stores of calcium and nutrients for the next laying season. I find an egg or two a day, which will continue until February, when there will be an uptick in egg numbers. By April my egg basket will be full again, but not as overflowing as it was this past year.
There is usually about a 20% drop in production the second year of lay. In a small flock, like mine, with a wide variety of breeds and personalities, there is much fluctuation. There will be broody hens. There will be nervous hens who can't settle in to lay. Weather affects production. Too hot, or too dark and damp and the hens don't lay. The Gems might get sick. I'm sure some hens will die. But right now, I'm optimistic. Perhaps it's because it's so cold that when I walk out to the barn the snow squeaks underfoot. The sun shines and I have to squint from the sparkles in the snow. When I open the barn door, the Gems greet me with much chatter. There are no eggs, but possibility is in the air.