Chickens can survive in basic housing. A small flock needs only few simple and easy to provide conditions for it to thrive. Sadly, these are not met by many of the prefab coops currently on the market.
SPACE: Provide a minimum of 4 square feet per standard-sized hen. Less than that and there will be pecking and health issues. Don't believe what the manufacturer says. Ask for dimensions, don't include the nesting boxes, and do the math yourself.
VENTILATION: Chicken manure is 75% water and high in nitrogen. As it breaks down it gives off ammonia fumes and makes the surrounding air humid. Chickens breathing this in will develop respiratory diseases. It is essential that there is air flow up and out of the coop. In a well-designed coop, fresh air comes in the pop-door and flows up to the roof where it leaves through vents along the eaves or, even better, through a cupola. Chickens poop a lot in their sleep. They should be sleeping up and away from their droppings. They need ROOSTS.
LIGHT: A coop should let in light. Chickens have terrible night vision. If hens are kept in a coop without windows, then even if it's sunny outside, it will be dark inside. A sliver of light coming in the pop-door is not enough for them and they'll stay on their roosts. They won't eat or exercise. This will affect their laying productivity and their health. Too many prefab coops have no windows, or openings that must be shut during inclement weather. Avoid those and get coops with real windows!
Those are the big three. There are other details, like a dry place to hang food and water, nesting box design, and predator control, which I'll cover in other posts. I've started a board on Pinterest where I pin examples of what I think are good coop design. Take a look.
A HenCam reader sent a photo of her coop to me, which is worth sharing with you. She has only .18 acre, but her hens are well-cared for in this design. I like that there's a people-sized door to access the run. A local carpenter built this for her, and he added touches of whimsy. Take a look at the moon carving on the circle window and the star on the screen door!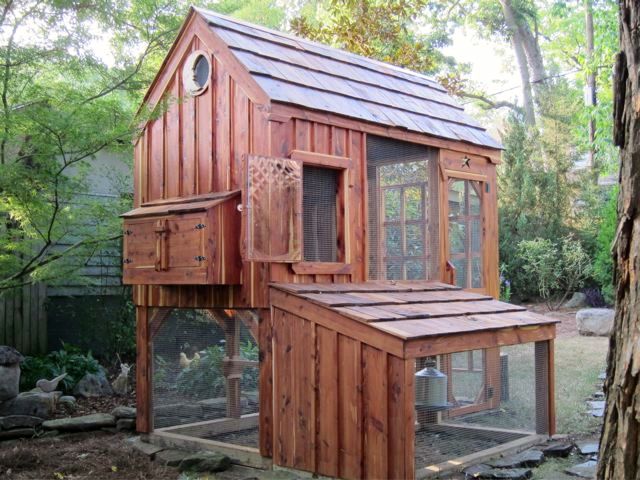 Do you have any charming accents on your coop?