UPDATE: A winner has been selected with a random number generator. Congratulations, Patti!
I confess that I procrastinate on Etsy. I make the excuse that I mostly look at chicken things. That's sort of like working, right?
I was very taken by this banner of prayer flags made by artist Miranda Gray.

Prayer flags have long been flown in Tibet and are an integral part of Tibetan Buddhism (a way of life that the Chinese continue to try to wipe out.) The thought is that the prayers and symbols on these squares of cloth are brought to life by the wind and are carried off into the world. I'm not Buddhist, but many of the blessings on these prayer flags are meant to create harmony and peace, and just the sight of them, I think, fluttering in the wind, is a reminder of living a mindful life.

Miranda has generously offered this banner of 9 Prayer Flags to the winner of this giveaway. The flag is shipped rolled up and wrapped in a paper prayer which reads:
May the Wind carry these prayers
for our barnyard birds
who feed us and enrich our soil
who are our comedic companions
May we humans honor and respect them
for their place in our lives
I think that's a fine sentiment.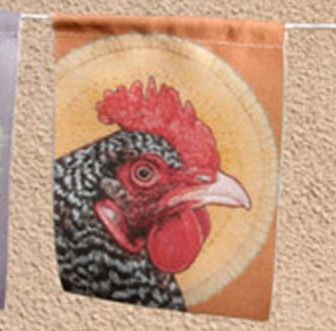 All you have to do to enter this giveaway is to go to MIranda's Etsy store and take a look at her listings. Then come back here and let me know which is your favorite. (I know some of you bee keepers are going to love her bee banner, and she has bunnies and goats, too!) One entry per person please EXCEPT if you put a link to this on your FB page or Twitter feed, then you get another entry. Just come back here and let me know that you've posted it. You must enter here on my website. Comments on my FB page won't count (sorry, but it's just too hard to keep track of.) The winner will be selected by a random number generator on Tuesday, October 30 at 10 pm EDT.