I have three Buff Orpington hens who, at sixteen months of age are at the end of what will be their most productive laying season.
Being Buff Orpingtons, the "laying season" doesn't entail much laying. They are prone to broodiness. Beryl and Topaz have been on and off broody all summer. When a hen is broody she doesn't lay. She looks like this: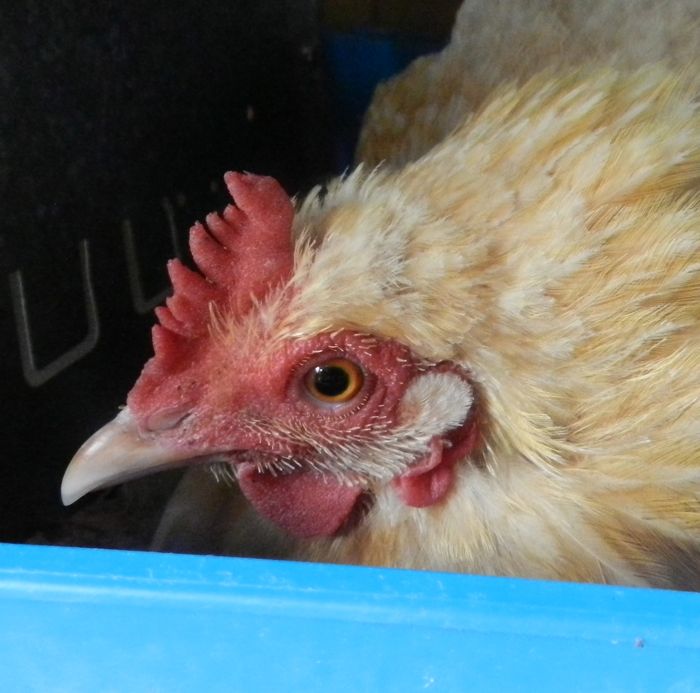 Even with that maniacal glint in her broody eye, Topaz is a beautiful bird. Buff Orps have a sleek outer feathers, with soft and fluffy undercoats. They are the golden girls of the flock.
But Amber has not gone broody all summer. She has laid eggs day in and day out. Her head looks like this:
Notice, too, the sparsity of feathers around the neck. Sometimes red skin and feather loss are signs of mites or disease, but not in this case. Topaz is a hen who has worked hard all season and is starting to molt. It will take her a good two to three months to grow back her feathers and rejuvenate before laying resumes again next spring. (This is why I don't push egg production by adding a winter light. Pullets, who don't molt in their first year of laying can handle that extra push, but the almost-two year olds need a break.) In any event, this is not a chicken that I would enter in a poultry fair as the goth vulture look is not in the "standard of perfection." But if I were judging a show, I'd mark give her the "best in breed" blue ribbon.