Topaz, the Buff Orpington pullet, is broody. That means that she is huffed up in the most coveted nesting box, growling at anyone who comes near. There are no eggs, let alone fertile eggs, under her. She doesn't care. Her hormones have taken over and she is determined to stay put. She could be like this for weeks.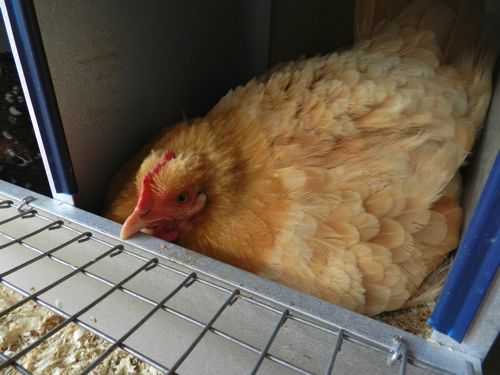 If you dare to extricate her from the box, she becomes a gigantic angry ball of bristling feathers.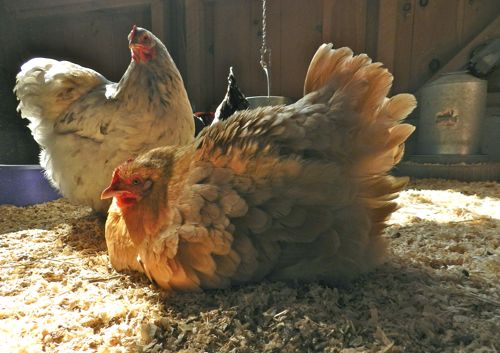 Topaz is in the prime of her egg-laying and yet she isn't leaving a one. Every morning she exits the nest box to deposit the hugest, stinkiest pile of poo in existence (for a photo, go to Wendy's blog – she was willing to photograph a similar load left by her broody. Me? I toss it as quickly as possible.) Topaz eats and drinks, and then goes back into the nesting box. Being broody does not do Topaz nor I any good whatsoever. I have a plan to stop it.
A hen's body temperature becomes elevated when broody (all the better to keep the eggs warm.) If you can bring down the temp, you can break the broodiness.
I put Topaz into a wire-floored rabbit hutch. It's a chilly, windy day. She's got to cool off.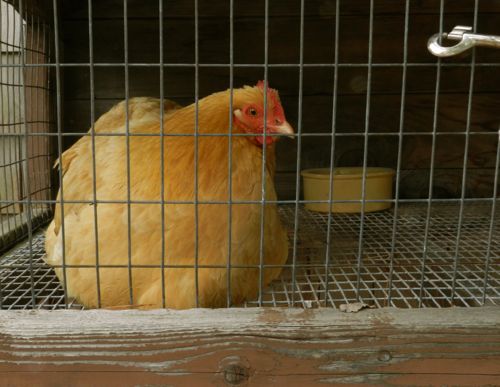 So far she's mostly sitting. But, Topaz did get up to eat and drink.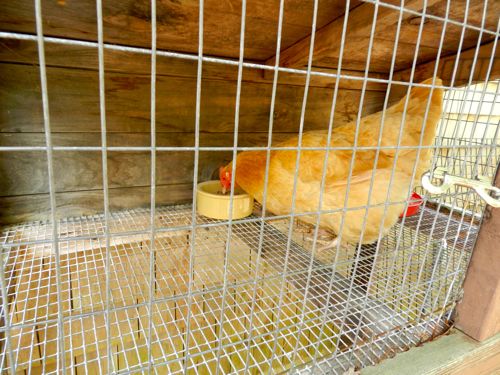 Hopefully, she'll be back to her mild-mannered, egg-laying self in a couple of days, and she'll be put back in with the flock. Some hens repeatedly go broody, others get put in the anti-broody coop once, and that's that. I'm hoping for the latter. I'll keep you posted.