I know that the other day I said that I wasn't going to let the hens out to free-range. I'd planted some grape vines. I put down wood chips. It all looked so tidy. But, the girls gazed longingly at the grass. They crowded their pen's door when they saw me. I had second thoughts about my harsh stance. The flower beds are still bare, with only the green tips of the peonies showing. There is a fence around the raised vegetable beds protecting the seedlings. How much damage could a dozen hens do in an hour?
It turns out, that the answer is a lot. It's been awhile since I've had a flock of young and healthy chickens. The old hens barely scratch the ground, but the Gems are vigorous foragers. Dirt and mulch flew through the air. Greens were eaten. Dust baths were hollowed out of lawn. Big piles of poo were left.
Usually I wouldn't care if I don't have a sharp edge around a garden bed, or if the bark mulch isn't perfectly contained. However, this year, I have been asked to be on a garden tour. I tried to convince the organizers that there are many nicer gardens in town. A landscape architect on their committee came out to look at my property. I pointed out the failings. She gushed about how much she loved it. The garden tour is a benefit for a very wonderful museum. I couldn't say no. So, on June 1 and June 2 there will about 700 people walking through my backyard. I think they'd like to see something other than dust wallows and shredded plants. The hens will be staying in.
I have ways to keep confined chickens content. There's the compost pile that is frequently replenished with interesting and delicious refuse. There's the kitty litter box filled with sand and DE for dust baths. There's the occasional pumpkin and melon to demolish. In the summer, I have another trick. I put a block of wood in a sunny, hard, packed dry dirt spot in the run.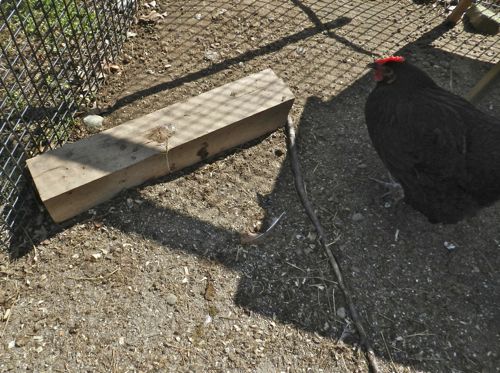 After a day in one place I turn it over. Underneath is damp ground. Bugs and worms surface!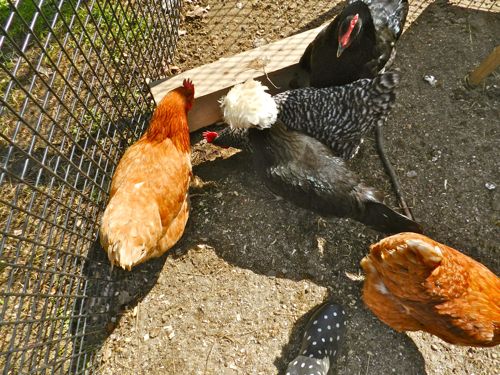 However, it doesn't matter how much their pen is like a chicken playground, they'll continue to want to come out. But I'm not going to let them. I have enough work in the garden as it is. Lucky for them, much of it is weeding, and I'll be tossing them clods of dirt and dandelions.
Meanwhile, the goats are asking to help.
I don't think so boys. Why don't you play on your stumps?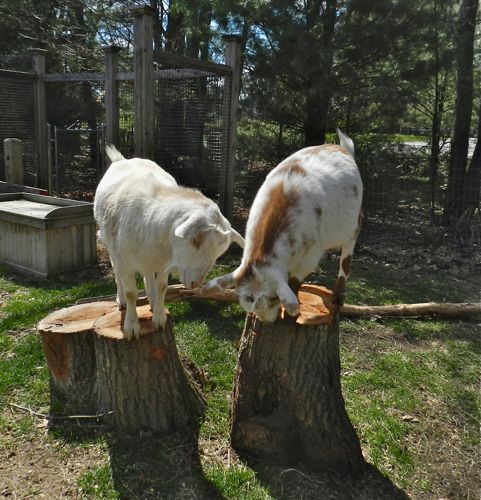 I'll be posting more information about the Garden Tour soon. It's open to the public, and tickets do sell out, so I'll let you know when they go on sale. Do think about taking a drive out here that weekend. It's worth a trip. The town of Concord has Louisa May Alcott's house, Walden Pond and Revolutionary War buildings. We're near Minute Man National Historical Park. My property will be one of eight on the tour. If you do come by, don't forget to say hello to the Beast. She's the one animal here that doesn't wreck havoc. I'm sure she'll be swimming demurely past the blooming water lilies.