Last week one of the hens tried to kill Buffy. Or, it could have been a couple of hens. I don't know the culprit(s). All I know is that I found Buffy in a nesting box, and there was blood splattered everywhere. Half of her comb was gone. Day in and day out this has been a stable, peaceful flock. The only obvious sign of a pecking order is that the hens with the most status get the best food first. Once in awhile I'll see a short chase of four steps, and a peck that misses.The nine hens in the Little Barn range from old to elderly. It's not worth their energy to strut their stuff. So, that blood, worthy of a television crime show scene, was a surprise. I removed Buffy from the group. All went back as it was, with the hens doddering about and napping in the sun. There were no other attacks, so this wasn't a case of an usurper trying to assert herself at the top of the compost heap. What happened was specific to Buffy. Something must have triggered the violence.
Buffy has lived a long life and has survived several health issues. She's a quiet hen that minds her own business. Sometimes aggression is triggered when a hen becomes sick and weak, but Buffy doesn't seem any slower than normal. Her manure output is the same. She's eating and drinking fine. However, two weeks ago I noticed that part of her comb was discolored. It looked darker and shriveled. A healthy comb has a lot of blood flowing through it. I thought that perhaps Buffy was having circulation issues. I didn't think that it was a big deal. But in fact, combs are very big deals to hens – combs are the key visual trait to how they identify each other. To us humans, a thousand brown hens in a commercial flock, all of the same breed, look the same. But to the hens, each one of them is an individual – and they know each other by their heads. Each hen has a unique comb which the other hens recognize. Change the comb and it's like a new chicken has been inserted into the group.
Despite Buffy's unique golden plumage, and despite the fact that she has lived with some of these hens for six years, with her comb dark and shrunken, she wasn't recognized and was attacked as an interloper.
I put Buffy into a spare rabbit hutch, and placed the house inside of the chicken run. Buffy has food, water, shelter and a safe place to heal. The other hens get to know the "new" hen through the hutch's wire front.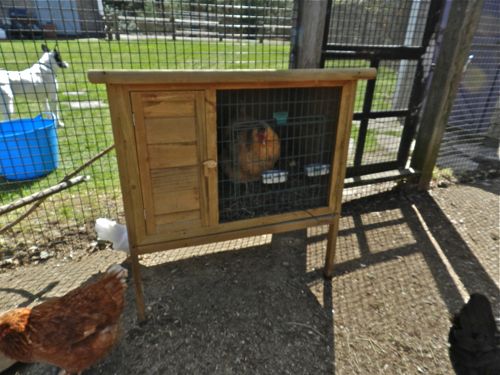 Every day I give Buffy some time in the goats' pen, where she can scratch, dust bathe and eat grass.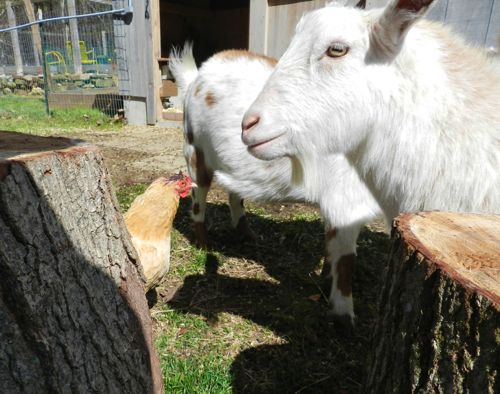 Buffy spends much of her time looking at the other hens through the fence. I've never know a chicken to hold a grudge. The other hens aren't puffing up their chests and challenging her through the fence. Buffy isn't looking scared. Hopefully, when her comb is healed, I'll be able to put Buffy back in with the flock.
Buffy is taking it all in stride.