My hens don't free-range unless I'm outside with them. I keep them safe from coyotes, dogs, and foxes with good fencing. But danger can also come from above. For the last four years a pair of redtail hawks have nested in the woods behind my house. More hawks live across the street. There is netting above the Little Barn run – Candy is quite safe – but the way the Big Barn pen is configured makes hawk netting impossible.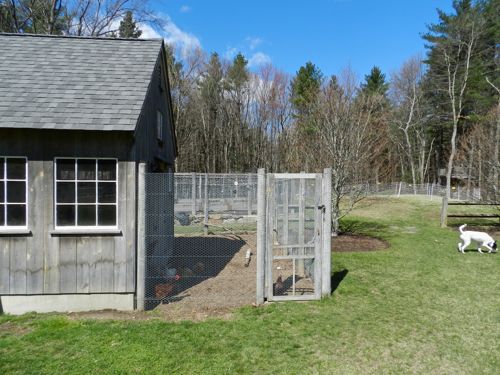 Good Dog Lily chases predators out of the sky (many dogs never look up, but she is hyper-vigilant.) However, Lily is not always outside to protect the girls.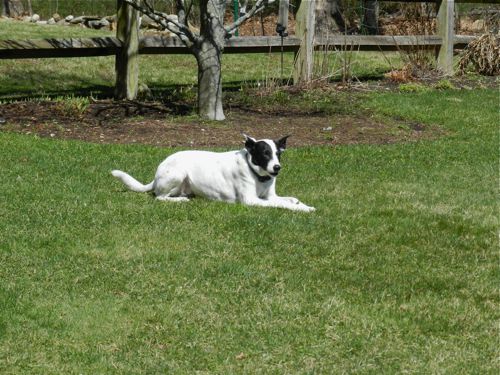 In an effort to protect the hens, I've criss-crossed string over the run – hawks don't risk getting tangled up in it. And I've hung CDs, that sparkle erratically in the sun and keep the airborne predators (and pesky sparrows) away.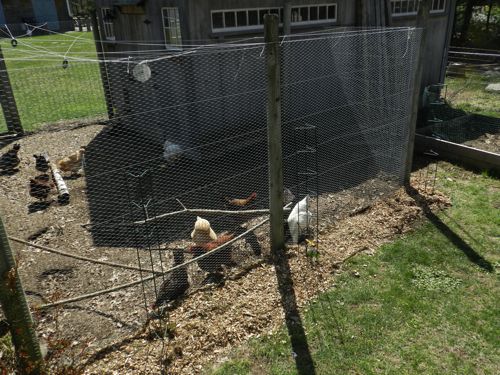 This winter, while reading "garden porn" – those colorful seed and plant catalogs that always seem to arrive in the mailbox on the dreariest and coldest days of winter – I came across seedless grapes that are suited (so they say) to my area. I had an "a-hah!" moment. What if I planted the grapes along the chicken's fence? What if they twined up and up, and then across and created a shady, verdant arbor, impenetrable by hawks? And from those vines would hang clusters of delicious grapes that I'd harvest? And the girls would get only the drops. There. That's the fantasy.
On Sunday I planted three bare root plants that don't look like they'll grow at all. One each of Pink Seedless Reliance, Concord Seedless, and Red Seedless Canadice. I watered. I put down mulch.
Gardening takes patience. It's for those who can envision the long view. Chicken are not good gardeners. As I worked, the girls gathered at the fence, intrigued by the twigs sticking out of the ground. They clucked and paced the fence-line, eager to get into the new bark mulch. Today I'm going to spend time in the vegetable garden planting peas. I was going to let the hens out to free-range while I work. But, what with the way they are eying the grapes, they'll be staying in.