Only two weeks after my cochlear implant surgery, the swelling had subsided enough that I could be "activated." Last Thursday I spent a couple of hours with my audiologist getting the device turned on. There's a tiny string of electrodes coiled inside my cochlea. It's powered by a small, battery-powered device that I wear propped behind my ear, and that is connected to my head with a magnet. It looks like a hearing aid. An external microphone picks up sounds and sends signals through the magnet, to the electrodes which zap my auditory nerve. The nerve sends a message to the brain. Sound! But, it's nothing like the sound that comes naturally through the eardrum. The brain has to learn what these signals mean. It's different for everyone.
I've worked with my audiologist, Nancy, for the last year. She's an attractive woman, my age, with a clear and steady voice. I could immediately understand what she was saying! However, with the CI turned on, she sounded like Minnie Mouse. This was to be expected, but still disconcerting! With time, voices become more natural. By the next day, Steve was sounding like Miss Piggy, which was, if you can believe it, an improvement. It can take months for voices to become normal. I went through this with my left ear, and am now hearing full, rich sound through that CI. Each ear is different, and success on one side doesn't guarantee success on the other. However, I'm confident that in a short time, weeks, maybe, I'll no longer be hearing cartoon characters. My work is to listen, listen, listen. I'm watching captioned movies, I'm listening to the radio – it's astounding that I can hear the radio at all, let alone understand the voices. And I must say, that I find it rather amusing that the sonorous and serious talking heads on NPR sound like Kermit the Frog talking to Alvin and the Chipmunks.
The CI is bringing in a lot of input that my brain has yet to make sense of. There's a constant background noise of what sounds like a whiny bathroom fan. But, yesterday, walking across the yard, I heard a cluck. A definite, low-pitched cluck. I'm not sure who was talking.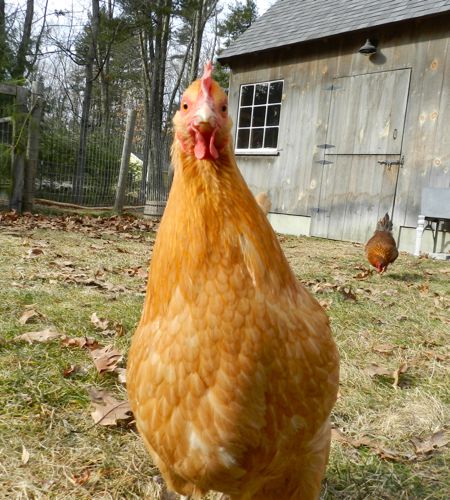 When I turned around and looked, their beaks were closed.
On the other hand, the goats have decided to be very helpful with my auditory rehab.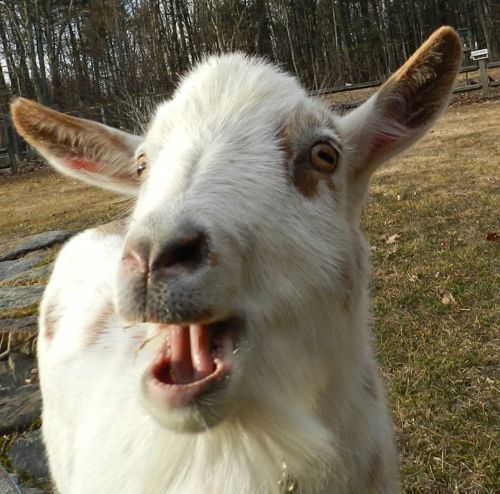 Thanks, Caper.