In the 1800s, hens were fed rather like the pigs – they were left to forage for what they could find, and fed scraps from the kitchen. They ate what was no longer consumable by people, and there was plenty of it, because without refrigeration food went moldy and staled. I've read accounts from women's diaries of the days and hard work that it took to clean out their pantries. I'll never complain about wiping out my refrigerator again.
Dairy products were often feast or famine. There was plenty of milk when your cow was lactating, but none when she was "freshened off." Cheese and butter were ways to store the excess. Often, though, milk would sour. When it did, the pigs and the chickens were fed bucketfuls.
Eventually, when farmers had hundreds, and then thousands of hens, this changed. Animals were confined. Grains were milled for animal feed. But, for awhile there, chickens were still fed milk. Spent laying hens were sold to middlemen, who fattened the chickens on milk before slaughter. Milk-fed hens were considered prime meat for the table.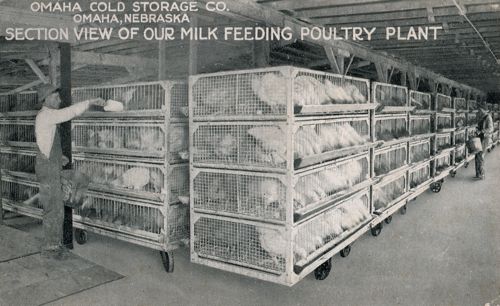 Although my teenager likes generic 1% milk, I want something better for my morning coffee fix. I splurge on whole milk from grass-fed cows for my morning coffee ritual. (FYI – I make coffee in this machine and froth the milk in this.) Anticipating a week of sitting on a couch and drinking coffee while I recuperated from surgery, I bought a half-gallon of very good, very expensive, local milk. Then, I got that nasty bug and had to drink broth and juice instead. The milk soured. So, I did what women before me have done. I fed it to the hens. I'm glad someone got to enjoy that splurge.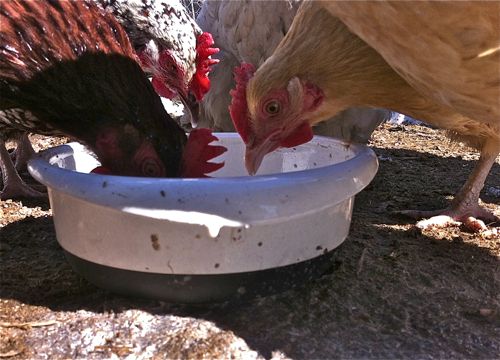 A note on my continuing recuperation: I'm up and ambulatory! My incision site has healed and I'm allowed out to the barn (but no mucking about in manure and kicking up dust.) Lily is getting a much needed walk today.