A baker's dozen of people interested in keeping backyard chickens came to my home this afternoon for the Chicken Keeping Workshop. You never know what the weather will throw at you this time of year in New England, and although it was cold, it didn't rain and it didn't snow. So, after listening to me talk about chicken breeds and the chicken life-cycle, behavior, housing and health, (and eating a bunch of cookies) we put on coats and boots and went out to get some real-life experience with the chickens. I promised that I'd show the class lice. After looking at several bottoms and not finding anything but healthy skin and feathers, I finally found a few crawlies on Tina. Next the class watched me muck manure and toured my compost piles. They got to see Buffy's bloody head (healing nicely, by the way, and she's quite happy in her private hen house – a spare rabbit hutch.) Then it was time to learn how to hold a chicken.
Just look at these smiling students! They're ready for flocks of their own.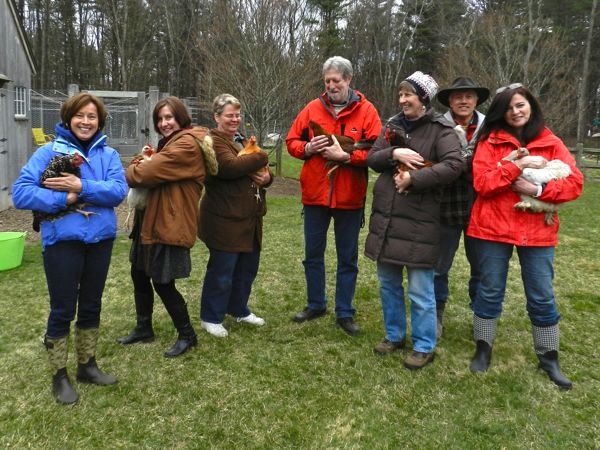 For those of you who couldn't come to the workshop, but want to learn how to hold a hen, I've a YouTube video here.
The next workshop is April 14. It's full, but email me and I'll put your name on the waiting list. If there's enough interest, I'll schedule another workshop in early summer.