On Tuesday every single one of the twelve Gems laid an egg. The Gems are a mixed flock, and none are hybrids, designed to lay daily. Most are supposed to lay about four eggs a week, so I was quite pleased with my full basket! Despite what they are supposed to do, each is an individual and there is variation. I don't know yet who is a good layer and who isn't – I'm sure that there are both in this flock. I certainly don't expect a dozen eggs every day, so, I was surprised to see an almost full basket yesterday. Eleven eggs.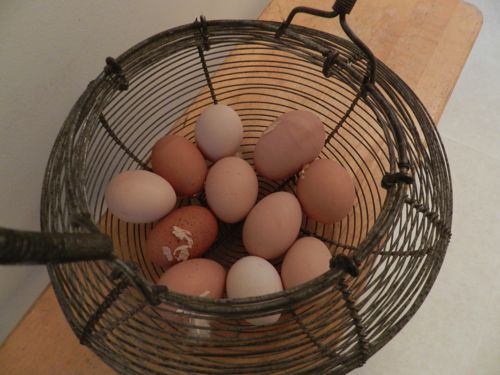 All of the Gems lay brown eggs, "brown" being a rather boring and unimaginative word when you peer into the basket and see the range of colors. They also lay different sizes. However, yesterday one was clearly a whopper.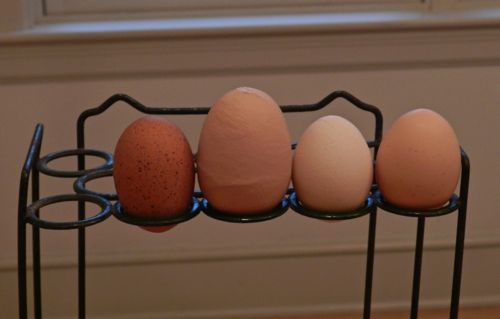 Not only was it ginormous, but it was all wrinkled, as if straining to hold the insides in.
I was pretty sure what I'd find when I cracked it open, and I was right. It was a double-yolker.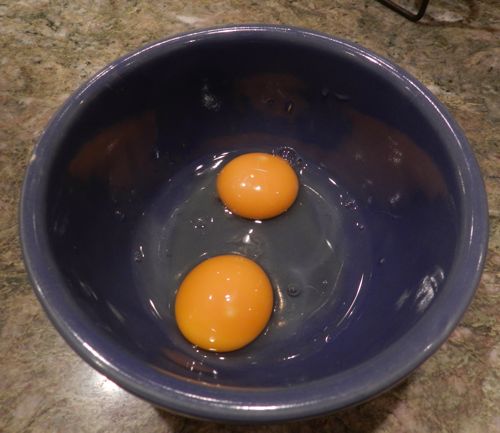 Two yolks in one egg is not unusual with pullets in their first few months of lay. A yolk is released from the ovary once every 25 hours, or, more typically there's even more time between the yolks being sent on their way. Once in awhile, though, the conveyor belt that is the reproductive tract speeds up or slows down. Two yolks end up getting surrounded by whites and then shell. It's hard to believe, but it's rare that laying an egg of this size is a problem for the hen. Young chickens can and do prolapse and get egg bound, but usually, they'll lay an out-of-the ordinary egg and be no worse for it.
Last night I sauteed up tomato, sweet yellow bell pepper and avocado. I stirred in the egg until it was just set. Topped with salsa. Dinner.
What's the most unusual egg that your girls have laid?