Buffy has had more lives than a cat, but I think that she's on her last one.
She arrived here in the summer of 2006, given to me by a new chicken keeper who had a killer in her flock. One by one her hens were dying, done in by an aggressive chicken that pummeled the heads of her flockmates. Buffy, with no feathers left near her comb, and spatters of blood on her, was next in line. If it were me, I'd have disposed of the bully, but at least the owner knew enough to save her hens. So, Buffy joined what was then a small flock. She fit in fine. The bald spot on her forehead was a permanent reminder of her past.
A year later a respiratory disease, likely mycoplasma, swept through the flock. A side symptom was conjunctivitis. Poor Buffy wheezed and her eyes were squeezed shut with gunk. I gave her Tylan. I put drugs in her eyes. She recovered.
In 2008 Buffy couldn't stand up. It was a mystery illness that I think was due to ingesting too much vetch in the springtime when that was the only green plant in the meadow to eat. I dosed her with epsom salts. I babied her. She survived.
She survived another bout of respiratory disease. She has survived vent gleet. She's been broody and suffered from heat. She's laid eggs and not laid eggs. These days Buffy has a hard time getting down from the roost in the morning, so I lift her off. She's old. Buffy sun bathes more than scratches. I have been keeping my eye on her (or, as Wendy calls it, "lookering.") About two weeks ago I noticed that her comb was dark and shriveled. This week I noticed that the comb had been pecked at. When a hen that is not normally bullied shows signs of being low on the pecking order, you know that something is amiss.
Yesterday I found her in the coop on the roost in the middle of the day. Notice her tail-down stance and her back to the world.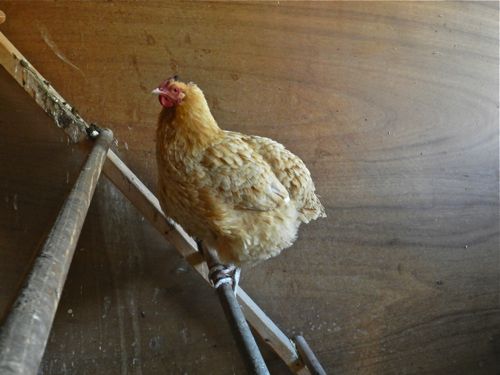 A big chunk of her comb was gone and her head was bloody. I cleaned her up and colored it with Blu-kote. Blue-kote is not only an antiseptic, but it also hides red. Buffy's crown is now dark purple. That should help to lessen the pecking.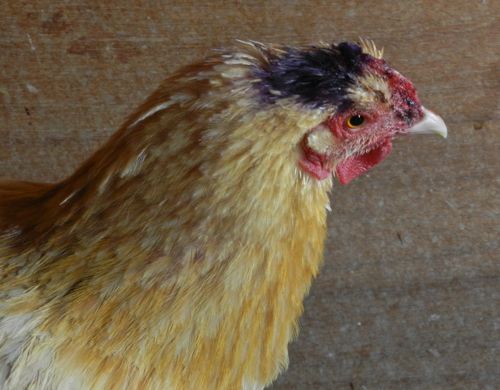 Today Buffy is back on the roost, and she has company. Betsy has joined her. Betsy has been looking frail for awhile. I've retired her from school visits. I'm keeping my eye on her, too.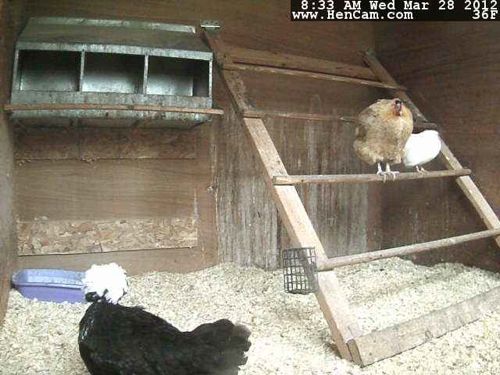 When they no longer roost I know that their time is up. For now, though, I'll leave these two old friends to their days together.