It's that time of year. Chicken catalogs appear in the mailbox. Experienced poultry keepers think about expanding their flocks. People who have never kept hens plan their coops, ready their brooders and dream of chicks. Everyone is mulling over what breeds to get.
Picking the chicken breeds to order can be overwhelming. Catalogs are a veritable, well, catalog of choices. It's like opening a box of chocolates. Such a selection! You know you don't want the coconut bonbon, but what about all of the others? You can't (you shouldn't) eat all of them, but they all look delicious. It's the same when faced with a crate of chicks at the feed store, or perusing the pages of a hatchery catalog. Decisions must be made and limits must be set. But how? To use another analogy, it's like going to an auction. You'd better decide ahead of time how much you're willing to spend before you're actually face-to-face with temptation. Use restraint. Don't go over.
Few people with a small backyard flock decide on breeds based purely on practicality. Some chose birds based solely on appearance. We fall in love with feather color, fluffy bottoms and silly head plumage. We like big birds, or very small ones. We like floppy combs, or pea combs, or no combs. Some make their decision based on egg color. They want blue eggs, or all white, or brown, or chocolate.
Certainly you should take looks into account. Right now if someone offered me two grey hens (any breed, as long as they are a pretty slate color) I would welcome them into my flock (even though my flock is healthy and well-established and I shouldn't have any more chickens.) But, there are other things that you should think about, and I'll list them here for you.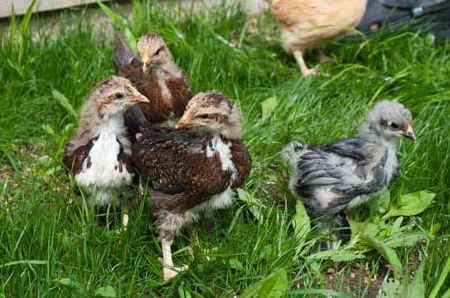 1. Do not order too many chicks. They grow up. They get big. They need way more space than most of the prefab coop advertisements specify. Plan on a minimum of 4 square feet of interior space per chicken – and that doesn't include the nesting boxes! Plan on a foot of roost per bird. Make sure there's another 8 square feet of outdoor space per chicken.
2. Purchase a variety of breeds. First of all, it's easier to tell your hens apart if they have different feather colors. The differences in personality will be more obvious to you (their individuality is part of the fun.) Besides, everyone loves having multi-hued eggs in their basket, and even if you select all brown-egg laying hens, there will be variation in darkness and mottling from breed to breed.
3. Take breed personality into account. Some chickens are more assertive than others. Some are better foragers. Some are docile. Some like to interact with people, some are aloof. Just like there are advocates of different dog breeds (Dachshund or Irish Wolfhound? Border Collie or Pug?) so, too, will people be opinionated about chicken breeds. I'll give you my prejudiced view. I'm sure to get some disagreement! In my experience the hens that are avid, active free-rangers are also the ones most likely to pick on subordinate hens. Rhode Island Reds, any of the leghorn/RIR hybrids, the Wyandottes and the Barred Rocks, all are greedy about food and not willing to share their space. They're fine together, but woe to the meeker breeds mixed with them. More mild-mannered hens are the Orpingtons, the Barnevelders, Welsummers, and Cochins. If you want hens that are eager to interact with you, go for the Speckled Sussex and the Leghorns. Do you want good layers that are decent birds, but not friendly? Try Australorps and Americaunas. If you want chickens with no chicken sense whatsoever, get Polish.
4. Take into account your climate, facilities and management style. Pearl is my feather-footed, heavy-coated Cochin. She's beautiful (grey!) and sweet as can be, but I would never get another Cochin. In the summer here it gets hot and humid and she overheats. She goes broody and suffers even more from the heat. In the winter the feathers on her feet become crusted with frozen slush and snow. In the spring her feet are dirty and I know which eggs are hers from the mud on them. I end up having to trim the feathers on her feet. She gets manure stuck in her fluffy feathers and so she needs baths. She's totally impractical and high maintenance. Another poultry-keeper might not mind, but that's not my style. It's also why I no longer keep silkies. I've had only two and I adored both of them for their sweet temperaments and adorableness, but they both died young and I take responsibility. When a silkie gets cold and damp they get sick – something I didn't realize as a new henkeeper. Where I live it is often cold and damp. If I were to keep silkies, I'd have separate, indoor facilities for them. For some, that extra care is worth it. I prefer sturdy hens that don't need coddling.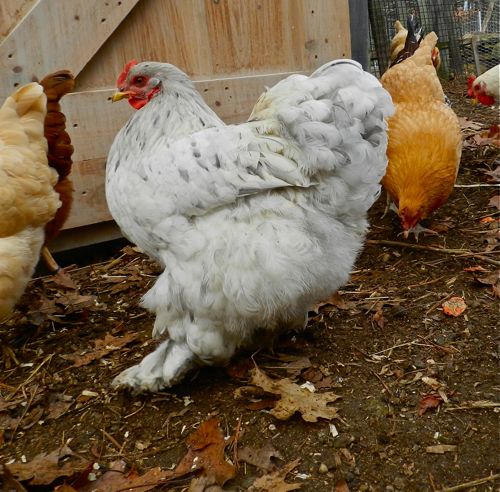 This post probably hasn't helped you at all. Not only have I been none to specific, but I've left out numerous breeds. That box of chocolates is still there, open, with too many temptations. But, the truth is, like a good box of confections, they're all good. Even if one isn't ideal, the mix is delicious. I once had a blue-egg layer named Perrie. She wasn't friendly, but she laid gorgeous eggs, and that was enough. Buffy is a calm Orpington. She was never a good layer, but she's a content face in the flock. That's enough, too. All of the parts make the whole. So, when selecting the right hens for you, look at the complete picture. Each hen doesn't have to be perfect, but the mix should form a satisfying whole.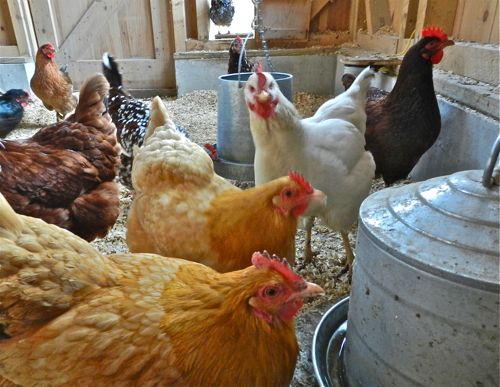 I am not placing a chick order this year. My Gems are laying, and my retired hens don't need the upheaval of new birds in their midst. I'm missing the excuse to pore over the catalogs. So, if you're placing an order, share you thoughts with me. Getting chicks? What's the picture that you see?