There was snow on the ground in the morning. Which should have made the rabbit happy.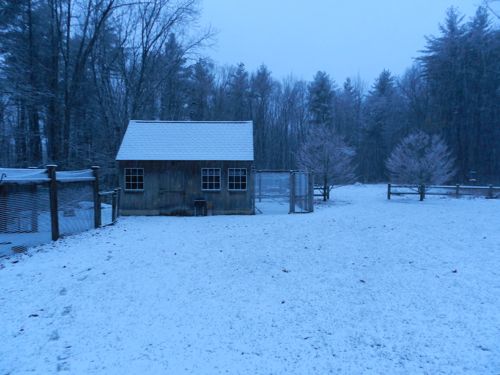 But as the dark ebbed it was obvious that it was going to be a nasty-weather day of wet snow and fat, cold, not-quite raindrops. Candy waited, impatiently, gnawing the wire at the hutch's door and ringing her bell. She does not, ever, pee in her house. She waits for the human to come and open up her door and put down the ramp. She is not a particularly cheerful bunny in the morning.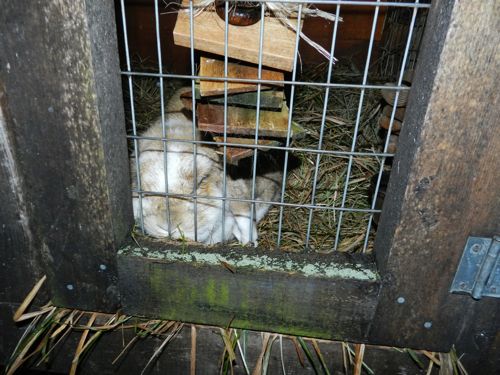 She perks up after she does her business by the fence. It doesn't matter what the weather, that's her morning routine. Those of us who have to have a cup of coffee before being civil can relate.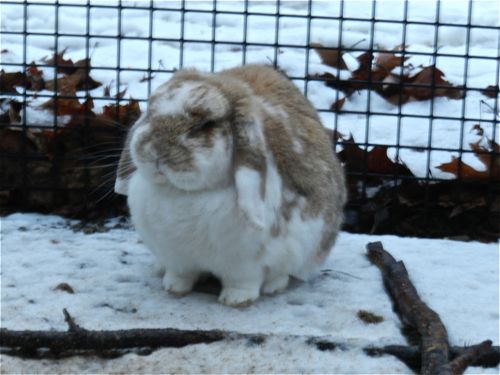 Next, she greets the hens. Or, I like to say, her minions. On good days, she joins them in the morning scramble for the handful of treats that I toss. Sometimes she hops up their ramp and positions herself in the pop-door so that they can't get out of the coop. That's the sense of humor that she has.
On days like this, she goes inside to her favorite spot, where she can keep an eye on everyone but they can't trod on her. Her expression is inscrutable, but her behavior shows that Candy does like the company of chickens.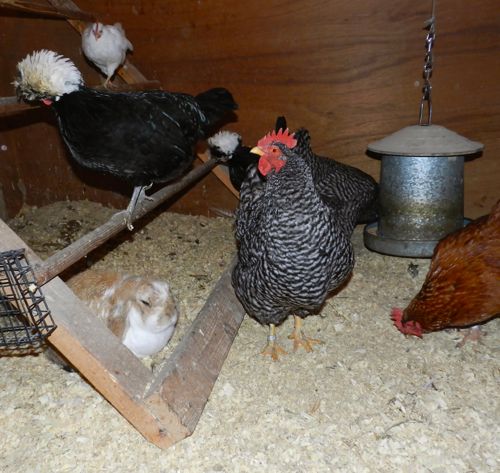 The miserable weather continued. All of the hens stayed indoors. But Candy, in her thick fur coat (and abundant layer of fat) spent some time gnawing at the pumpkin. After all, a rabbit does get bored and hungry.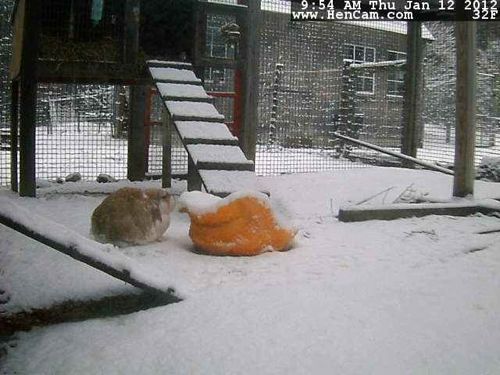 At the end of the day the chickens go on their roost and Candy goes back outside, once again, waiting on the human. When she sees me she runs up the ramp and waits at the door for her banana chip. I must have two for her. Candy scarfs down the first one, then looks for the second in her bowl. If that second chip isn't there, she'll have a hissy fit – which entails bell ringing and head jabs. Bunnies are not always inscrutable. While she eats, I latch her door, keeping her safe and sound until tomorrow.