Yesterday Agatha and I spent the day at an elementary school. We met with four groups, about 125 children in all. I read Tillie Lays an Egg. Agatha demonstrated how chickens eat, (No teeth! She grinds food with the rocks in her gizzard!) and drinks (No lips! She tilts her head back!) She also pooped, once while on my lap. For the five-year olds, that might have been the best part. Did you know that birds don't pee? It all comes out in one plop. That's a fact that I'm sure those children shared with their parents at dinner that evening.
Agatha was perfect. She was calm and friendly. She let the girls wearing shiny pink hair ribbons know how much she liked their sense of fashion by tilting her head and making happy chuck-chuckles. She also liked the red patterns on the boys' shirts. Agatha sat on my lap while child after child stepped up and cautiously stroked her feathers with their fingertips.
Not all of my chickens could have done this. Twinkydink doesn't like to be more than 25 feet from the coop. Florence, Agatha's Speckled Sussex sister is too active and curious. The Rhode Island Reds peck, and would have scared the children. Agatha is perfect because, and I say this with much affection, she is a bird of especially little brain. When the other chickens react to a sudden movement, Agatha slowly looks around. When they're out foraging and hear me call and come running, Agatha just keeps on wandering around the yard. She's also a strangely fussy eater. She doesn't like to try new foods. This is her best trait. When faced with a little girl in a red-sequined Hello Kitty shirt, Agatha doesn't think, FOOD! like the other hens would. My guess is that she thinks, OOOH, pretty! Agatha is worth her weight in gold.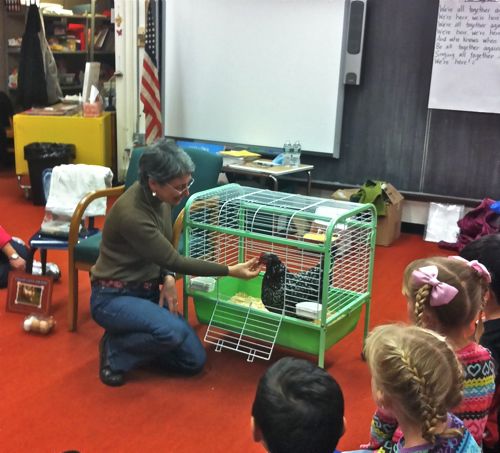 I'm booking school and library programs. I also do Skype visits. Contact me if interested.