Today I am putting Agatha in the car and driving 38 miles to visit about 150 pre-K and kindergarten children. I'm looking forward to it. Agatha doesn't know to look forward to anything that will happen more than ten seconds beyond the immediate moment,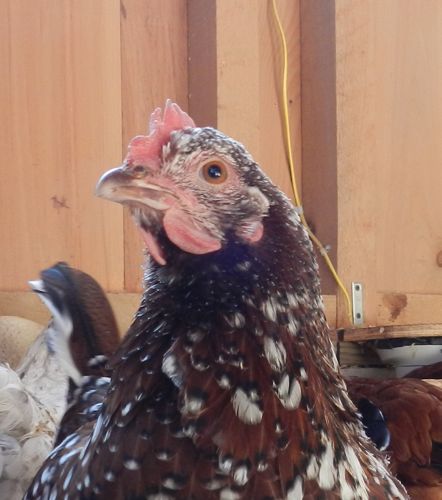 but I do know that when she is at the school and sees little girls in sparkly shirts, and is pet by little gentle boys in awe, she will be a content hen.
This is the first time that I have not brought one of my actresses who play Tillie with me. Snowball was the first, and greatest, of the Bantam White Leghorns. Then came Betsy, Eggers and Coco. Betsy is the only one left. I've decided to retire her because during the last school visit she just wasn't enjoying herself. It might have been because she was starting to molt, which will make anyone, literally, prickly.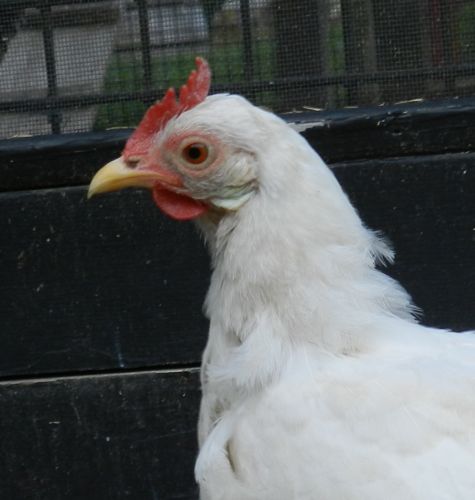 But, I could tell it was more than that. How can I tell if a chicken is "happy?" What is happy for a chicken anyway? Who knows? A chicken's mind is not a human's mind. There are biological similarities. There are differences. I can't read her thoughts, but I can read her body language. In her prime, on school visits, Betsy acted like a diva, with a "stare at my beauty" stance. Betsy's tail would be upright, her head high. She was active, eating, and casting beady stares at everything new. When I took her out of her crate and perched her on my arm, she'd stay put, expecting the handful of grain she knew was coming. She let each child stroke her, looking carefully at each one, and talking in a low chortling voice. Back in the crate she'd eat some more, then settle down as if she was calmly sitting on a nest. But, this past autumn, I took her to a school and her tail was down. She didn't eagerly look at the children. She didn't want to perch on my arm. If she had suddenly started speaking in English Betsy couldn't have been clearer. It was time to retire. Agatha was ready in the wings – actually in her travel crate – I'd brought her as a backup. As child after child came up to pet her, Agatha sat contentedly in my lap, chortling greetings to each. A new star was born.
So, Agatha will be in the car today, not Betsy. We're going to have fun.