Thanksgiving is right around the corner and I know that many of you are planning menus and writing shopping lists. You're thinking about turkey, stuffing, and maybe a green bean casserole. I'm not thinking about any of those foods. It's not that I don't love a classic Thanksgiving dinner, but over the years circumstances have kept me from creating that fabled groaning board in my own home. I don't have nearby family to invite over. Our friends have their own commitments and can't fill the seats in our dining room. We've tried staying at inns, going to a community pot-luck, and having a scaled-down version for the four of us. None of those alternatives felt right to me.
Eight years ago, facing yet another sure-to-be disappointing November, I sat myself down and thought hard about what I truly loved about Thanksgiving. It wasn't the turkey, and it wasn't the need to relive childhood memories.What I wanted was a house full of people and the casual, relaxed, hanging out at the table that happens at a food-centered, home-centered holiday. It dawned on me that I could have that without the Thursday dinner. I came up with my own unique tradition – one that features my hands-down-favorite part of the Thanksgiving menu – I invented the Sunday After Thanksgiving Pie Party.
Woman's Day Magazine got wind of it. Perhaps they read this post, or this one. In any case, the current issue of the magazine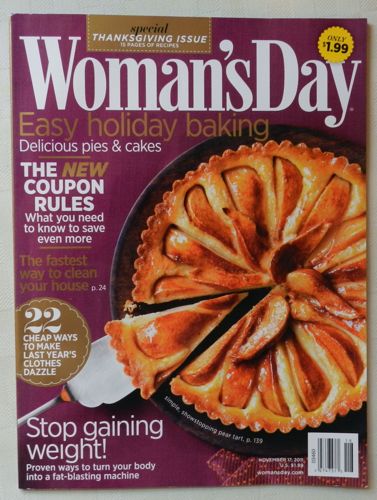 carries an article about unusual Thanksgiving traditions, and my pie party is featured.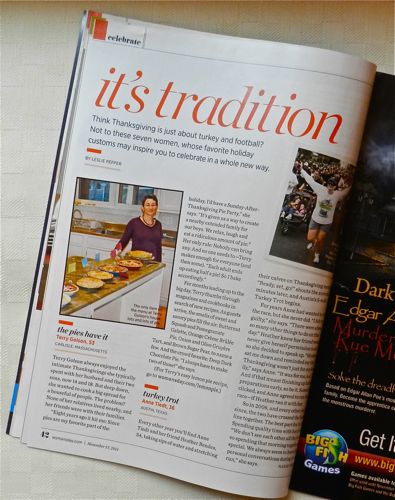 This weekend I'll be writing up my final detailed lists. Shopping list. Prep list. Pies I can freeze list. Last minute list. I have to be organized. I'll be making about fifteen different pies. None will be pumpkin. Here's what I'm thinking of so far, but this list will change before I start baking. Chocolate Pie, Lemon Pie (my recipe is online at Woman's Day. Their editors added a 1/4 cup of sugar to my recipe. I do like my lemon pie on the tart side), Peach Almond Gallete, Rhubarb Custard Pie, Apple Cheddar Crumble Pie, Chocolate Pear and Ginger Pie, Tollhouse Pie, and Banana Cream Pie. On the savory side there will be Butternut Squash and Feta Pie, Chicken Pot Pie and a classic Quiche Lorraine.
Are you making pie? I'm open to suggestions. My lists aren't finished yet.