Take a look at this photo.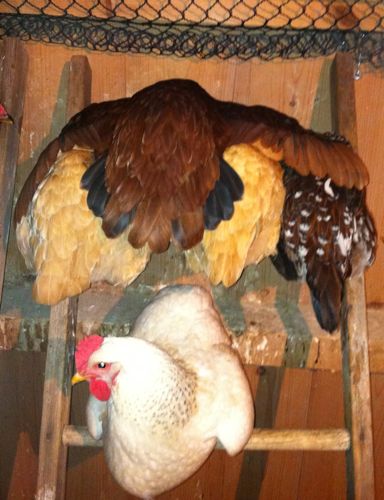 Sweet, huh? There's one of the Rhode Island Reds, cuddling up with her friends.
Don't jump to conclusions.
I fully believe that animals have emotions and are thinking beings. However, I am careful not to interpret their behavior based on my skewed perspective as a human. We all look for that "aw, how cute" moment. YouTube is rife with videos that are supposedly of adorable happy dogs, but they are actually fearful, grimacing pets. A smile is not always a smile.
And this is not a hug.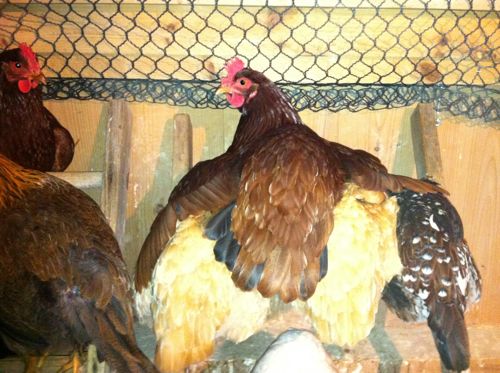 Ruby is on the top of the pecking order. She doesn't have a motherly, coddling bone in her body.
The prime sleeping position is on the highest rung of the ladder. Ruby was late to get to her rightful place. She was busy laying an egg. By the time she hopped up, the perch was full. She tried to shove everyone out of the way. Roosting birds are hard to move. Ruby almost fit. She squeezed in all but her wings. And so Ruby ended up in this rather ignominious position. After a bit more jostling, wings were tucked in and all went to sleep.
Knowing that it's an awkward position and not a hug does nothing to diminish the pleasure I get from this moment or these animals. On the contrary, I appreciate the pure chicken-ness of them. Who they truly are is endlessly fascinating. I don't need my hens to hug each other. I've seen plenty of examples of friendships amongst my flock. There's always something going on – the challenge is in understanding it.