When will my hens start laying?
This is a question I get all the time.
And then I get asked, Why have they stopped?
The answer begins with, It Depends.
IF you have early spring chicks and IF you have production breeds, your new pullets will begin laying at four months. However, some of the old-fashioned breeds, especially the large, heavy ones, take a long time to mature. They might not begin to lay until they are 24 weeks old, which might bring you up to autumn, when daylight hours are shrinking and the weather turns cold. Not optimum for laying. So, your new hens might not lay until February.
My Gems (so-called because I've named them all after fancy rocks) hatched on April 25. They are 7 months old. I've been getting 3 eggs a day for the last month. That's only 3 eggs from 12 healthy pullets. But I'm not worried. They're animals, not machines. This summer there was a stretch of brutally hot weather. No one wanted to eat. Then at the end of last month there was a freak snowstorm. That could put anyone off their schedule. And then there was the stress of a humungous bird hunting fish (for all the Gems knew that Great Blue Heron could have been hunting chickens!) and landing on their barn and scaring the bejeezus out of them.
Things have calmed down. I think the heron has migrated south. The hens are eating. We've had some lovely sunny days. I collected five eggs from the Gems today! I also got one from my Golden Comet, Philomena, who is older, and molting, but she's a hybrid who just doesn't stop.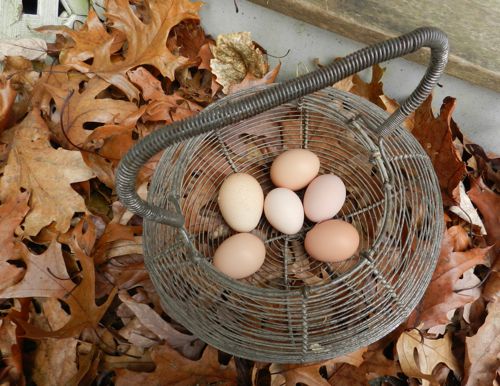 I am very pleased to see these eggs. I need 35 eggs to make the pies for the Pie Party. I'll have enough for a second Rhubarb Custard Tart.
As to why your hens have stopped laying, well, it depends. Around 18-months of age, all hens molt – some more dramatically than others – but they all have to put their resources into making new feathers, not eggs. This stage can last for only a few weeks, or up to two months. The molt usually occurs with the onset of winter, shorter daylight hours and cold temperatures, all of which signal the birds to stop producing eggs. I usually see the egg laying pick up again by February or early March.
A sudden stop in laying is often due to stress. Perhaps there's a predator around, or you've added to or depleted birds from the flock causing social upheaval. Perhaps there's a lot of noise with construction going on next door. The weather can stress out hens, too, especially prolonged periods of extreme heat (cold rarely bothers them.) Or, maybe something is stealing the eggs. Snakes, skunks, and other animals will take eggs. Maybe one of your hens has learned to smash eggs and eat them (you'll usually see a mess if that happens). Sometimes a hen goes "broody" which means she sits in a nesting box but doesn't lay a thing. Sometimes a hen has a glitch in her system or an injury and she doesn't lay at all.
A gradual reduction in egg production is usually due to age or poor health. It happens to all flocks that are allowed to keep going past 18 months (when commercial farmers cull their old stock and start fresh with new). Philomena is a hybrid, designed to lay day after day for two seasons. She's now into her third. I get three eggs a week from her, not the six from when she was young, and they're thin-shelled and misshapen. But they're still good for baking. Her twin, Agnes doesn't lay any, nor do any of the other old girls in the flock you see on the HenCam; some haven't laid an egg for years. It's a flock of retired chickens. I'd be surprised if the oldest – Eleanor and Edwina (who are seven and have been toddling around for years) make it through the winter. (Although that's exactly what I said last November.) At least I have the Gems this year and enough eggs for my pie party. It looks like they're revving up the egg production, but I don't know if they'll keep laying through the dark days of winter. It depends.
(note – although keeping a light on at night does increase production, I don't bother. I'll give the girls a break for a couple of months. My barns have big, sun-facing windows which encourage early-spring laying. More about winter care in this FAQ.)