We're having a drenching autumn rain. It's miserable out. These days morning is slow to come and now that winter nears, nightfall seems to happen suddenly. On a day like today, it's hard to believe there's a sun in the sky at all, and the word dreary is an understatement. The ground is muddy and slippery from fallen leaves. No one wants to go outside.
The goats loathe getting wet. I don't usually feed them hay during the day. Lazy boys that they are, they'd never venture back into the meadow if they had food in their stall. But when it rains, I give them a flake, or the the poor boys would starve (emphasis added by Caper.)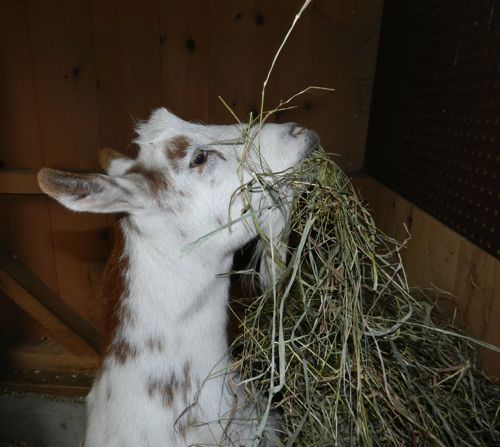 Chickens don't mind getting wet, that is, as long as it's not windy and the rain isn't cold. Their outer feathers shed water (silkies aren't waterproof and shouldn't get wet), but on a day like this most of the hens are inside. The Polish, of course, go outside and let their heads get soaked first. They have very little sense.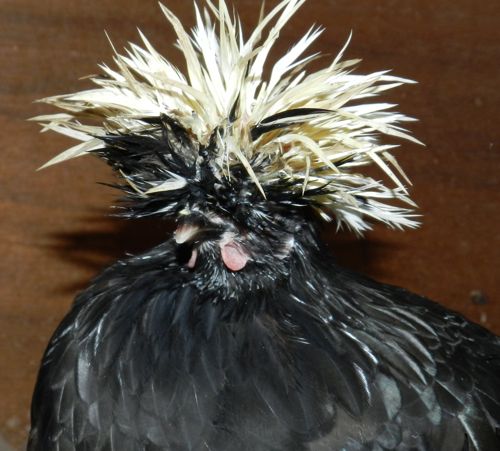 Candy joins the flock indoors. It can get boring in there, so I've put the last of the wormy kale, and some parsley, from my vegetable garden into the suet feeder (which, by the way, is the perfect way to feed green to your hens. It takes them longer to peck at it and the leaves stay fresh up off of the floor).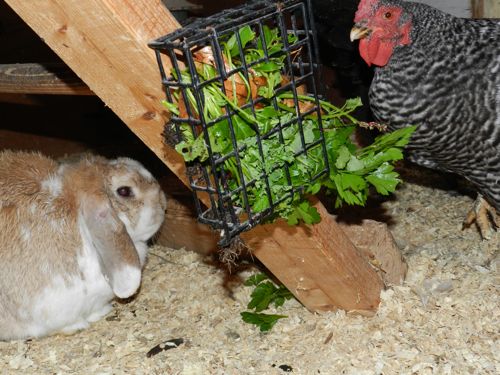 I've attached the feeder low enough so that Candy can have a nibble, too.
Buffy has no desire to be inside with the rest. She's old and mellow and wants to be left alone. Under the hutch is dry enough for her.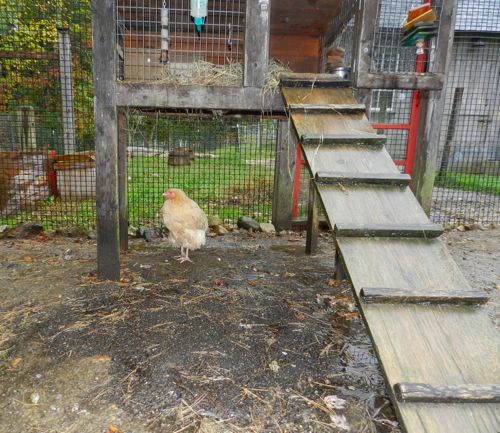 The Gems are all inside, where there's plenty of room for everyone. Still, Jasper, who is on the bottom of the pecking order, is showing signs of her low status. So far, Opal and the rest have only pulled out feathers from the base of Jasper's tail.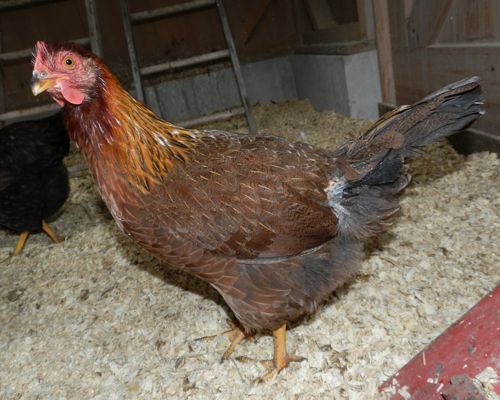 But, today I noticed exposed skin, so I treated it with blu-kote, which darkens the skin to make it less attractive to the peckers. It's also an antispeptic.
To keep the Gems busy and less focused on Jasper, I tossed stale cheerios onto the floor. It'll take them awhile to hunt and peck for all of the tidbits.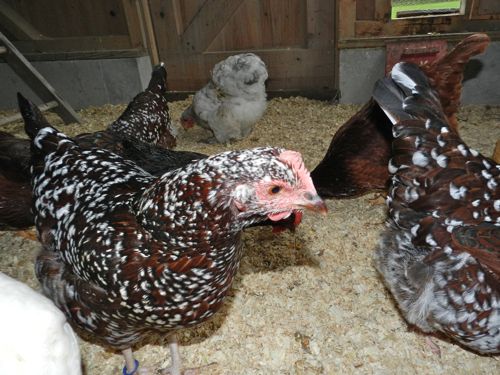 It took less than fifteen minutes to do my rainy day chicken care. I'm back inside, holding a hot cup of tea. On a day like today it's hard to get motivated to work on my writing projects. Thank goodness for the barn chores which give my day a sense of purpose and accomplishment!