There's always a hen at the bottom of the pecking order. That's just the way it is. The chicken on the bottom of the totem pole will be the last to get the tossed treats, will wait to eat from the feeder until the boss-hens are done, and will, literally, rest on a lower rung of the ladder.
In the HenCam barn, Betsy, being a tiny thing, is told, by the other girls, to "shove off." Betsy might be at the bottom of the pecking order, but she's no wimp. She darts quickly out of the way of stabbing beaks, she dodges and dashes and does just fine. Buffy is also at the bottom, but it's of no matter to her. She keeps comfortably to herself and no one bothers her. A visitor to this barn would see little drama and would have a hard time picking out who's at the top of this peaceful flock.
The Gems have also sorted out their pecking order. As I expected, the Rhode Island Reds are on top. In my experience, they're a breed that is possessive about food, which makes them avid free-range foragers, but when kept in pens, they'll dominate the others. Opal, the Delaware, is a big hungry hen, and is also on top. However, once the pecking order is established, everyone plays by the rules and gets along fine. There's no squabbling and no fights. The flock should be a calm unit. If there are problems, it's usually due to mismanagement by their humans.
Jasper is on the bottom of the Gem's pecking order. She's a Welsummer, which is a lighter-weight, mild-mannered breed. Jasper is also the only Welsummer in the group, and that makes a difference. The old saws that birds of a feather flock together and there's strength in numbers ring true. The Buff Orpingtons, Amber, Topaz and Beryl, form a troop of their own and no one bothers them; but I know if there was only one Orp that she'd be near the bottom with Jasper.
About two weeks ago, when I picked Jasper up, I thought that she felt light and I was concerned that she was getting enough to eat. Worried that she was being kept away from the pellets, I hung a second feeder in the coop. Last week, I noticed feathers missing near the base of her tail, and then a couple of days later I saw skin. Once there's a raw, red patch, the other hens, even the ones who aren't bullies, will peck. It'll quickly turn into a gaping wound, and that can lead to cannibalism and death. Hide the red and sometimes the pecking stops. I sprayed on blu-kote (gentian violet) which colored the base of Jasper's tail dark purple. That seemed to do the trick.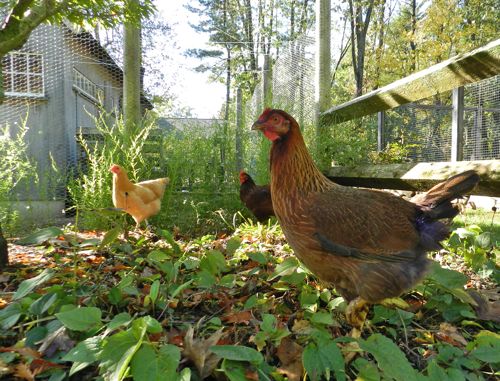 Yesterday the rain finally stopped and I let the girls out for a scratch and forage in the flower bed.
I was watching when Ruby trotted up to Jasper, pecked a feather off her tail, and ate it.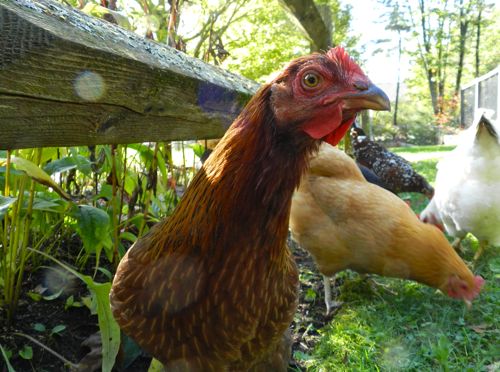 So, what I had was not just a case of dominance, but had become the very bad habit of feather eating. It can start from hunger or lack of nutrients, but that wasn't the case here. It can start because an aggressive hen pecked at a subordinate and discovered that feathers are edible. That was likely what happened. Or, it can start from boredom and closed quarters, which, with the rain and being kept in, probably contributed to Ruby seeing Jasper's tail feathers as an addition to her diet.
I need to break this habit. Ruby has a taste for feathers, but I'm sure that she'd prefer to eat other things. I'd like to let them out more – which will be possible soon. Today I'm having a fence installed to keep wandering dogs off the property. I'll rest a lot easier when that is up. Meanwhile, I put a pumpkin in the pen. I'll fill the compost area with weeds and leaves to keep Ruby and the Gems busy. It's possible that I might have to switch Jasper into the HenCam flock. She'll probably be on the bottom there, too, but at least she won't be treated as a walking snack bar.