I'm hard on boots.
I keep a pair of slip-on rubber boots by the back door. I like waterproof boots which keep my feet dry through dew, rain, snow and mud. I like boots that are almost knee-high so that I can stand in the pond and pull weeds. I like boots sturdy enough to stomp on electric fence posts, and not rip when a goat stands on my foot. I also like to buy my boots on sale because I know from experience that in no time at all they'll look like this: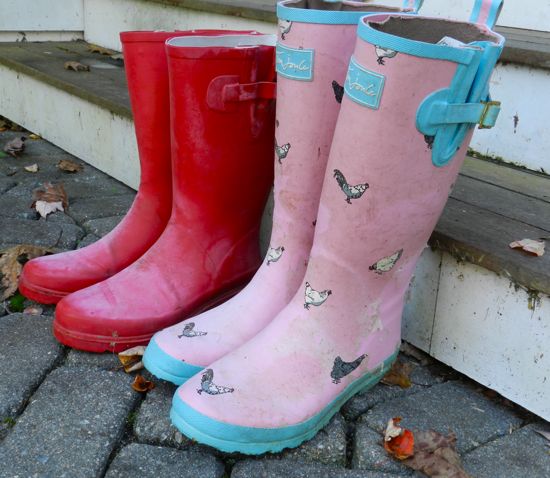 Those charming pink boots were bought (on sale!) in England in May. Only five months ago they were bright pink. They're now cracked and soggy inside.
I've bought expensive boots; I've worn LL Bean boots and Muck boots, and I've even bought Coach rubber boots. In a few short months they all end up looking like those pink boots. Replacing boots is one of the costs of having chickens and goats. Manure eats away at rubber, sunshine dries and cracks it, and cold makes it brittle. If I weren't tromping around outside with my animals, my boots would look pristine. Disreputable boots are an indicator of a life well-lived.
This morning, with no boots to wear, I mucked out the barn in my crocs. Goat "berries" smooshed on my socks, which were already damp from walking across the wet lawn. It's time to go shopping for new boots.