I have a big pumpkin patch next to the vegetable garden. You need to dedicate a lot of space for pumpkins – the leaves are broad and as big as dinner plates. The stems are like garden hoses. Every year in the springtime I bring wheelbarrow loads of compost from the bins in the chicken pens and spread it over the pumpkin growing ground. Then, I use a fresh bag of soil to make four mounds, plant started pumpkin plants in those hills, water and watch. Last year this is what it looked like, in all of its crazy abundance.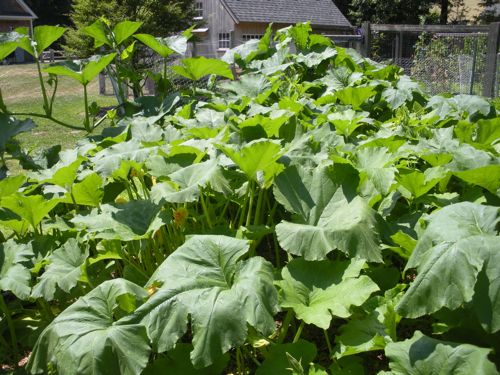 This year, however, was not so successful. There was that cold beginning to the growing season and then that 100º heat wave, an infestation of borer worms in the stems, some mildew, and finally Hurricane Irene. Here are the Gems exploring this year's pumpkin patch: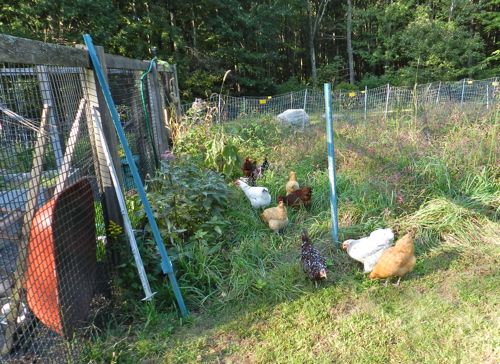 You might ask What pumpkin patch? So did I. The chickens, however, are delighted with the weeds, seed heads and quantity of bugs in the patch. I harvested one lone pumpkin, which looked perfect and orange, but when touched, turned to mush. For the first time in years, I bought pumpkins at a farm stand, but those are turning to mush, too. I think that the heavy rains from Irene soaked the stems and so the pumpkins are not hardening up properly.
But, all is not lost. I do have this beautiful gourd growing.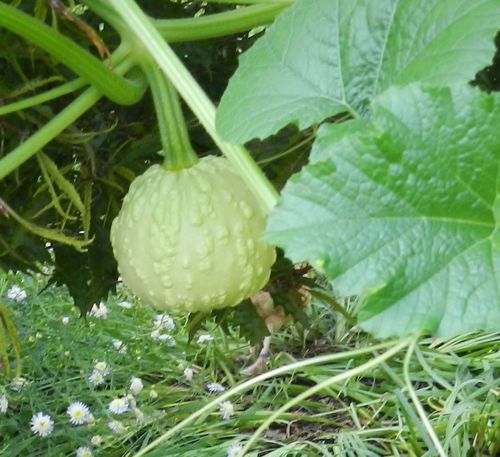 But it's not in the pumpkin patch. It's in a tree!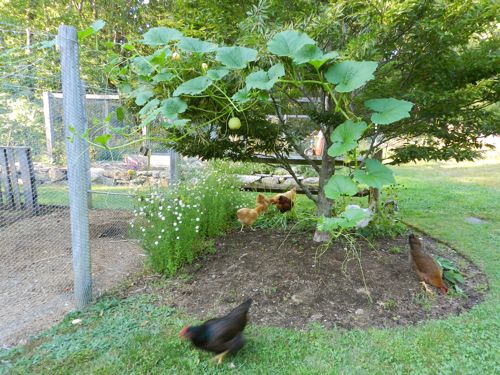 The stem begins in that clump of flowers. The chickens must have kicked a seed out of their pen and it took root. Gardening is full of surprises.