There's no big news here, but there's plenty going on.
A Great Blue Heron has been fishing. Lily chased it out of the pond three times yesterday. It's a huge bird, and slow to rise into the sky, so I give it a head start before telling Lily to "get it!" There's too many small goldfish in the pond, and I wouldn't mind the heron eating a few, but I don't want it stabbing The Beast, who is too big to swallow whole, but is still at risk for being stabbed. The fish eat algae and mosquito larvae in the pond, but they also need commercial fish food. This time of year, as temperatures drop, I switch to pellets made for cold weather. It's easier to digest and won't rot in the Beast's belly when she slows down into hibernation this winter. I'll stop feeding the fish in November. The Beast and her minions will spend the winter in a slow, sleepy, swimmy state under the big rock. The pump remains on all winter, so even though the shallows will freeze solid, there's running water in their safe cave.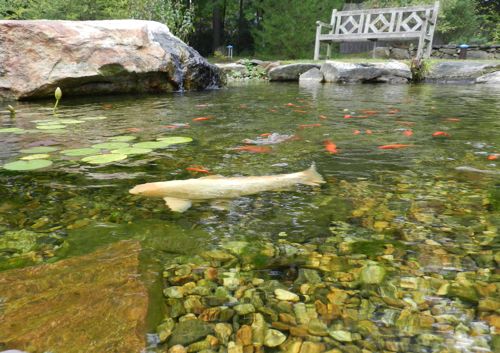 We thought that the worst of the biting insect season was over, but Irene's rains created a perfect environment for mosquitos. Two steps outside and I get bitten. I have gardening to do and can't bear spending anytime in the clouds of insects. The goats' coats are getting thick for winter, so they're not getting bitten too badly, but I'm not spending much time with them. They don't understand why not.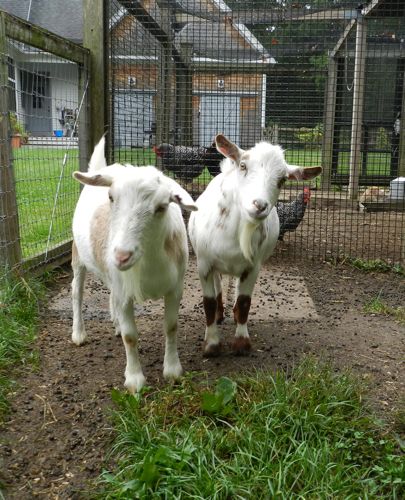 Garnet continues to be the only Gem to be laying. She's leaving me four lovely eggs a week. Ruby, the other Rhode Island Red of same age and same breed, isn't laying. The other pullets make a big show of being interested in what she's doing but are not yet following Garnet's lead. I tell myself it will be soon. I tell them to hurry up, but I don't think the Gems are listening.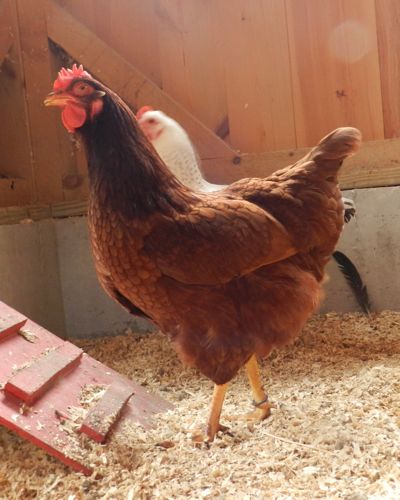 There's optimism in the young hen's barn, but in the HenCam barn, my old hens are showing their age. Maizie, who hasn't laid an egg since last spring, or maybe last year, is likely on her last days. Her abdomen is squishy. She's standing in that penguin-like pose of a chicken who is uncomfortable and once in awhile she gulps. The other hens are leaving her be, so I will, too. She's four years old and has had a good life.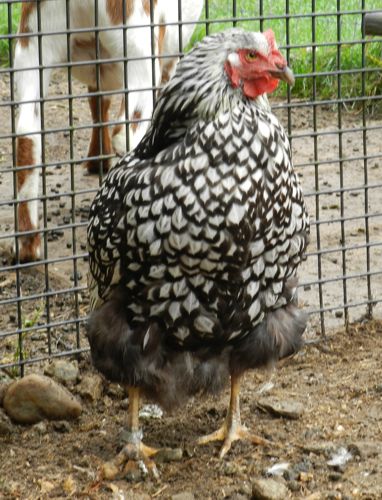 Candy is getting ready for for favorite season – winter. She's shedding her summer coat and getting an even thicker winter one. She's putting on insulating fat. I'll be taking down her shade tarp so that the sun hits her hutch so she can sun-bathe when it's freezing out. I also bought her a new toy.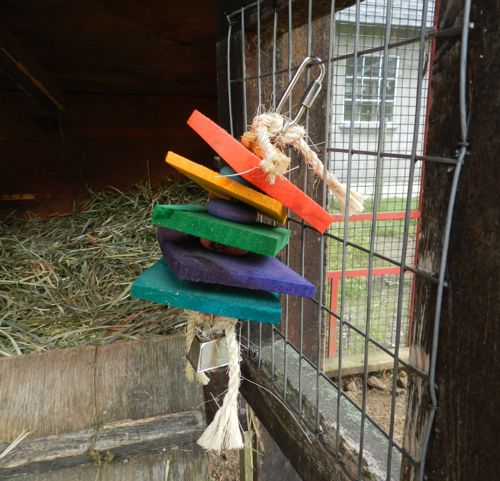 It's sold in the parrot aisle of the feed store, but it's perfect for bunnies. Rabbits need to chew to keep their constantly growing incisors short. The bell is a bonus. Candy rings it when we are late to let her out in the morning.
Candy was a star in my latest school visit. This time, the children came to me! A library full of second-graders in California got a tour of my backyard via an iPad and Skype. I walked around, showed them the Beast and the chickens and the goats. When I stepped into the HenCam pen, Candy came charging up to the iPad. I could hear the children's hoots – it must have been quite a sight projected on their smart board! I wasn't surprised that Candy stole the show. I'm already talking to the librarian about another visit in February. Those Southern California kids have never seen snow. Just wait until they see Candy on her snow throne!