At first glance the two Polish hens, Tina Turner and Siouxsie are look-alikes. However, I can tell them apart because Tina has spurs. Sometimes that happens – a female chicken will grow lethal-looking nails. The spurs don't match Tina's personality. She is just as ditzy and mild-mannered as Siouxsie.
These days, there's an easier way to tell them apart than by looking at their legs. Check the tails.
This is Tina.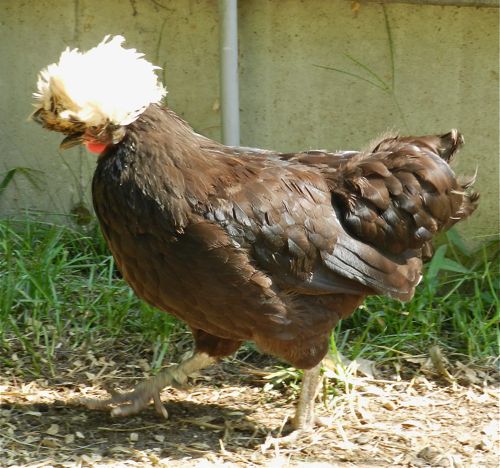 And this is Siouxsie.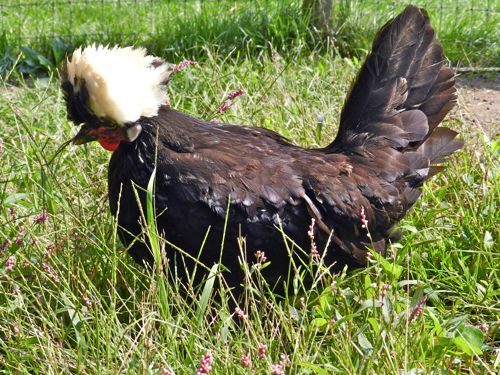 Notice that Tina's tail feathers have fallen off. She's molting. All of the hens will be soon, but Tina is first. Although you can read in books that chickens lose their feathers in a certain progression, the reality is that each bird is different. Some will lose just their tail feathers. Others will lose feathers in patches, looking like they suddenly developed a mysterious tropical skin disease. In all cases, the hen will stop laying. She needs to put her energy into growing new feathers, not eggs. This conveniently coincides with the winter season, when there are fewer daylight hours, and it's colder, all signals to stop egg production. You can turn on an electric light to encourage more eggs, but that only works once their feathers grow back. For some chickens that happens in a few weeks, for others it takes all winter.
The Gems are also losing feathers, but it's not a true molt. They're growing in their adult plumage, and losing their baby quills. Depending on the breed, some of the Gems will be laying through the winter of their first year, and others won't start until February.
I'm often asked, "when will my hen grow her feathers back?" and "when will she lay again?" There's no definitive answer. Even chickens that are the same age and breed, like Tina and Siouxsie, molt at different paces. Siouxsie continues to lay four pointy white medium-sized eggs weekly. Tina lays none, not since her tail feathers fell out, which, by the way, happened all at once. They'll start laying again when they're ready, and I don't know when that will be. As they age, the onset of laying after a molt is later in the spring.
There are some questions that I can answer. To the query, "Will my scrawny-feathered hen be cold?" The answer is, "No." Then I'm asked, "Even with her skin showing? Doesn't she need heat?" The answer remains "No." Be amused. Miss the eggs. But don't worry. It's all normal.