Last night I left the bedroom window open a half-inch and this morning I woke to a cold wind squeezing through that narrow space. It's below 50º. It's sweater weather. It sounds like fall: the leaves are twisting and turning, and branches are rubbing against each other. There's a rustling sound of wind in trees, gusting and blowing that you only hear this time of year. It looks like fall, too. Leaves are a darker green, and some, like on this maple in my front yard, are beginning to turn.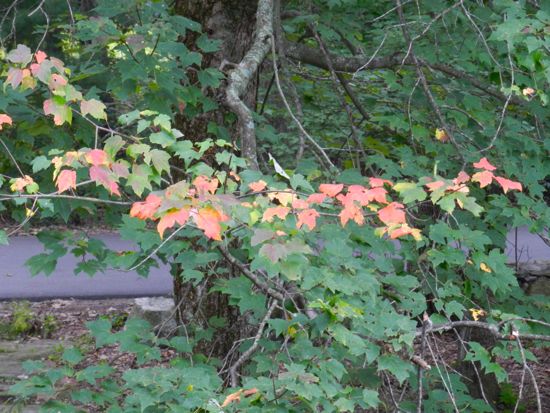 The goats are, seemingly overnight, fuzzy bears. Pumpkins are piled at the farmers market. I crave soup.
Hopefully, the swarms of late-summer mosquitoes are gone. They certainly can't fly in this wind, so I'll be out doing some yard work that I haven't been able to get to because of those vicious bugs.
Candy greeted me this morning at the door of her hutch with and eager rattling of the wire. She loves this weather. I'd like it to go on and on, just like this, for months. Candy is the only one who doesn't mind how short the season is. She's ready for snow.
This week is the sixth anniversary of turning on the HenCam. Has anyone reading been with me from the beginning? Whether new to the site, or here for years, I'm happy to have you in my backyard.