For the last two days the talking coming out of the Big Barn has sounded different. Instead of chirpy, "I found a bug" and "oh, the chicken servant is here to feed us" chatter, I heard a lower, more insistent chuck-chuck-chucking voice of a hen who has laid an egg. It's a stand up and take notice voice. A proud, pay attention voice.
I checked the barn several times yesterday. No chicken sitting in a nest. No egg hiding. But I did notice that the shavings in the boxes had been rearranged and the wooden eggs pushed aside.
I heard that voice again. I ran out to the barn. Nothing.
Steve saw one of the Rhode Island Reds anxiously checking out all corners of the pen. She went up the roost. "Shall I lay it here?" She went into the corner of the compost. "Here?" She perched on top of the camera. "Here?" Steve watched for awhile. No egg.
Then, about 4 o'clock in the afternoon all was quiet. And this was in the box.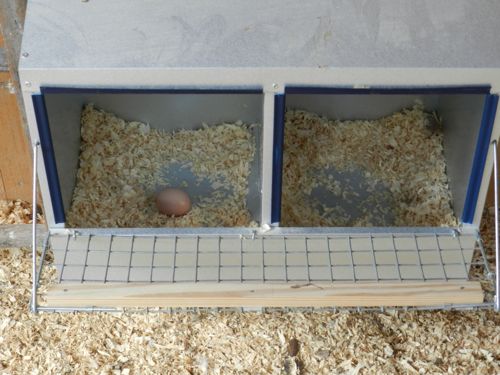 It's a light brown, absolutely smooth like marble, medium-sized egg. There was a smear of blood on it, which is not unusual for the first one. I wiped it off with a damp paper towel and put it in the egg rack in the kitchen. It's beautiful.
Perhaps Ruby laid it. Or maybe her twin, Garnet. These two look and act alike. The only way I can tell them apart is by the blue leg band I put on Garnet.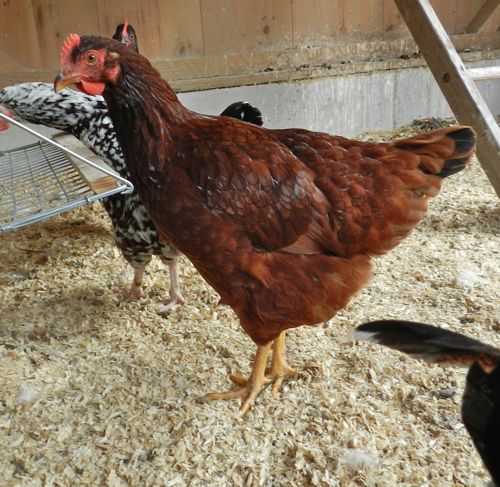 Who will lay an egg today? I'm baking bread. The dough is rising in the kitchen. I'm ready for toast and omelets for dinner.