I had the perfect composting system in the Gem's run. There were two bins made out of wood pallets. I put garden and kitchen waste, and used goat bedding in one, and when that filled up I switched to the other. Meanwhile, the chickens scratched and turned the piles, shredded all the material into tiny bits, and added manure. After a year of letting it rest, I shovel out gorgeous, loose, rich compost, which is perfect for the garden.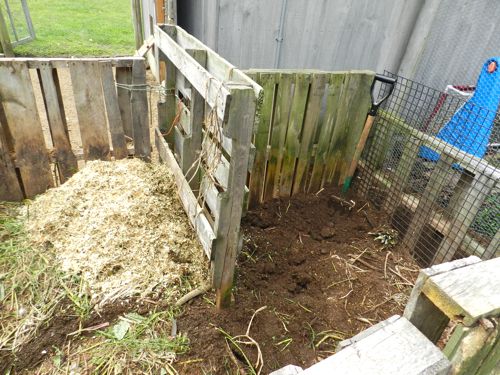 I've had this set up for several years. I never had a problem with it when the old girls lived in the barn (these are the hens you now see on the HenCam.) Then the Gems moved into this barn, and they took right to their compost duty of turning and scratching. But, two days ago, I had to dismantle one of the bins. It's Agatha's fault.
Agatha saw the bins' potential- as a launching pad. Despite the twine criss-crossed over the run to keep the hawks out, and despite the fact that she's a heavy Speckled Sussex who is decidedly not aerodynamic, Agatha flapped her way here: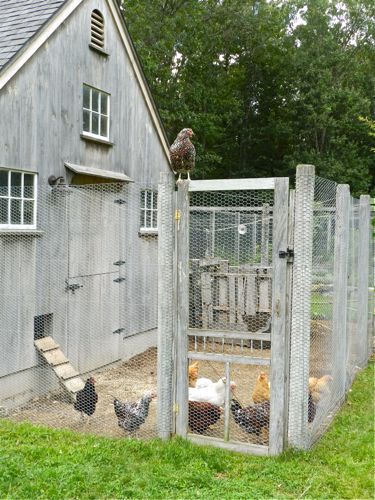 The other chickens were astounded, but remained on the ground, that is until Onyx leapt up to join the instigator.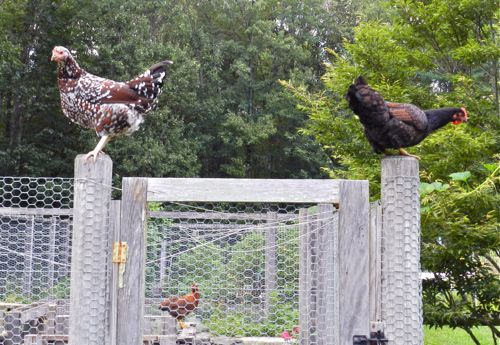 Doesn't Agatha look pleased with her new vantage point?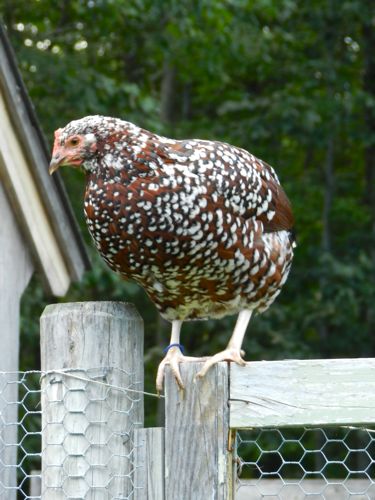 Obviously, despite their glee, this is not a good idea. The fence keeps them safe. They're about to launch themselves further afield into a yard with dogs and hawks, fox and coyote. I had to get them back into their pen.
Agatha thought about stepping down onto my arm, but even standing on a stool, I was too far off.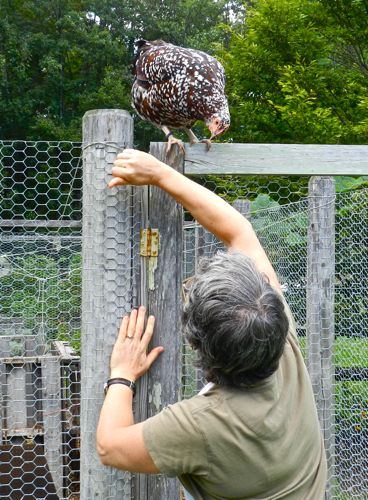 I was just able to reach up to poke their chests and push them back into their run. Their landing wasn't exactly elegant, but it didn't hurt, either.
Now, there's just one compost bin in the run. I'm putting more string up, too. If bulky, awkward Agatha can get out, a hawk can fly in.
They're safe. For now. But who knows what Agatha will think up next?