Predators are everywhere. In the city there are raccoons and opossums. Even rats. (Uggh!) Some southern states have snakes large enough to down a chicken. There are fox and coyotes, bobcats and fisher cats. There are loose dogs (the worst) who trot through your yard and grab a hen.
I live across from 800 acres of forest, with a wildlife corridor that extends, not even a mile away, to a river that is a national wildlife refuge. I live on a street where people walk their dogs – sometime off-leash. Woodlands border my yard. These tall trees are perches for predators,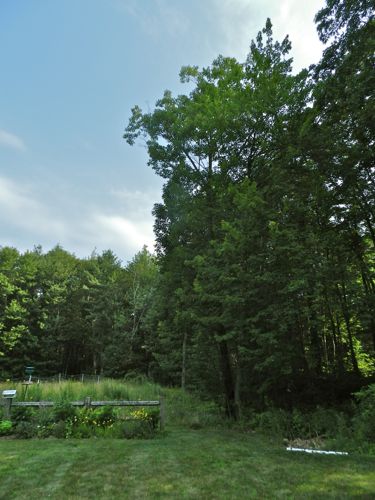 like this juvenile Red Tail Hawk that was screaming from the very top of the oak tree on Saturday.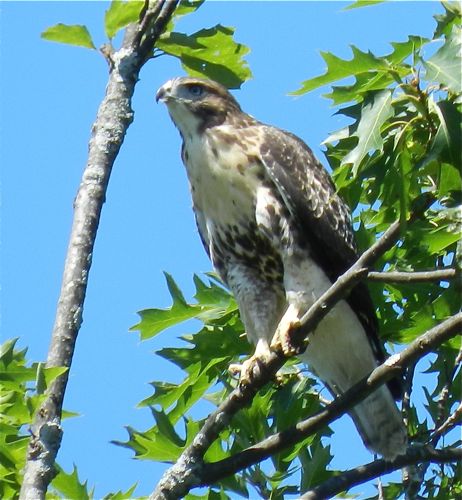 But in the eight years that we've lived here, I haven't lost a single chicken to predators.
I'm very careful. The hens do not free-range unless I'm watching. I don't believe that a chicken would prefer a short, happy live, ended by being mauled by a predator. I think it's better for them to have a long, happy lives in their safe pens. Do they complain? Sure. But, my kids used to ask for candy in the supermarket checkout line. They complained, too.
The HenCam run has netting stretched over the top. It keeps the taloned hunters out. But, it won't keep out raccoons. Once, ten years ago, a raccoon climbed the six-foot fence, ripped off the netting and entered the coop. The next morning, three of my chickens were either gone or in shreds. I've learned my lesson, and at night the hens are inside and the door is latched.
The Big Barn run is protected from predators a different way – I've run string back and forth and hung shiny CDs. A hunting hawk wouldn't dare enter and get tangled up in the twine, and the beams of light bouncing off the CDs deter wild birds from entering the barn.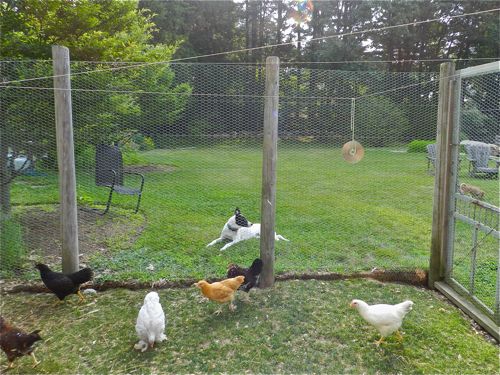 I believe in good fencing, buried six-inches below ground to deter digging animals.
If you have one of these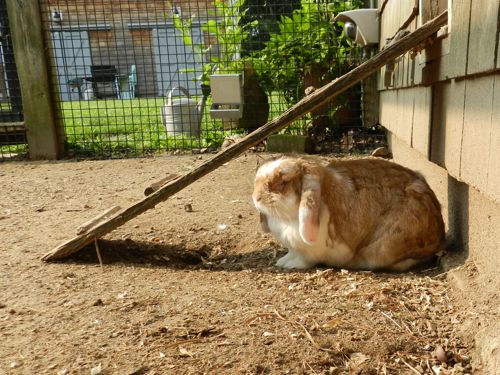 then you'll need to add rocks to the edge. Don't be fooled by this photo of her calmly sleeping in the shade under the ramp. Rabbits burrow, and could star in their own version of The Great Escape.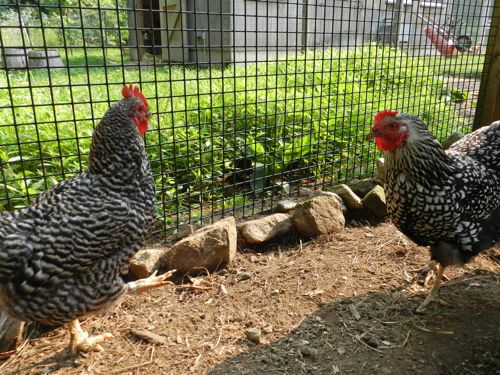 My main defense against feeding the wildlife chicken dinners, though, is my good dog, Lily. Hyper-alert to all things moving, she chases hawks out of the sky and coyotes out of the yard. She also keeps the squirrels off the bird feeder. But, that's another story.