I'm sure that an herbalist could tell me why cucumbers are so cooling. I know they have an astringent quality, which is why people put slices of cucumber on their eyes to take down puffiness. (Anyone out there ready to join me in the shade by a pool, with cold drinks and cucumbers on our eyes? Yes?!) Luckily, just when the summer heats up, the cucumbers are in season.
I planted "Marketmore" cucumbers, and they live up to their name, with more cucumbers on the vine than other varieties I've tried. I like their size, too. Medium length and not too fat – just the right amount of juicy centers with tight seeds, and a skin that is thin enough to eat.
This is what I had on my countertop yesterday: Cucumbers, mint, parsley and chives from my garden, and a lemon from the market.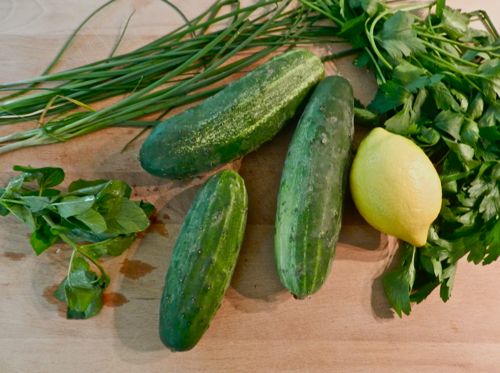 I partially peeled the cukes and then cubed them. Washed the herbs well, dried in a salad spinner, minced, and tossed them in. Squeezed the lemon and strained out the seeds over a measuring cup. A lemon usually yields about a quarter cup of juice, but it varies. I checked how much I had, then poured in good extra virgin olive oil to not quite match that amount.  Salt, pepper, whisk, toss.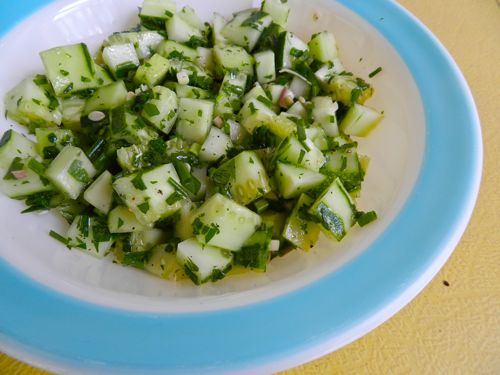 This will keep me cool as the temperatures rise.
Make it a main dish by adding feta cheese. Or, serve as a side dish. It goes nicely with salmon and egg salad sandwiches. (One can salmon, one large hard-cooked egg, mayo, pickle relish. Mash.)  That's what  I had for dinner last night. No heating up the kitchen at all.