There's been an early heat wave and I've already heard that several hens have died. Your chickens have warm feather coats. They don't have long tongues like dogs to use to dissipate body heat. Chickens can't wallow in mud like pigs. Shade helps, but they're unlikely to cross a sun-burnt yard to get to a cool spot. It's up to you to manage their environment to keep them healthy; below are ways to help your chickens to beat the heat.
Provide cool water in a shady spot outside. If the coop is stifling hot, they won't go in to drink, so having a second waterer where they hang out in the shade is essential. If you don't have shade, create some. We stretch a shade tarp (the link is just for info, not an endorsement) over Candy's hutch. The chickens take advantage of it too.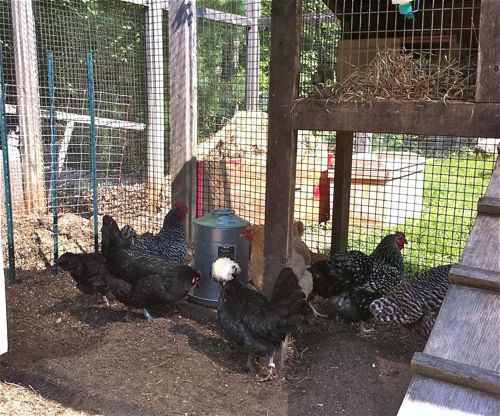 If you have an extra plastic waterer, fill it half-way and put in the freezer. When solid, top off with water, screw on the base, and your hens will have cold drinks. Also, reduce or eliminate the amount of scratch grains that you feed your girls. Corn generates heat, which is good in the winter, but not in the summer. Instead of scratch, provide juicy melon rinds for treats.
When the temperature hits the 90s, shade isn't enough. The chickens will stay cooler if they have loose, damp earth to stretch out in. If your yard is packed dirt, hose a portion in the shade down. Better yet, have a compost area in the shade. It'll be moist and cool (the compost in my chicken run isn't "hot".) Candy appreciates the shady, cool dirt, too.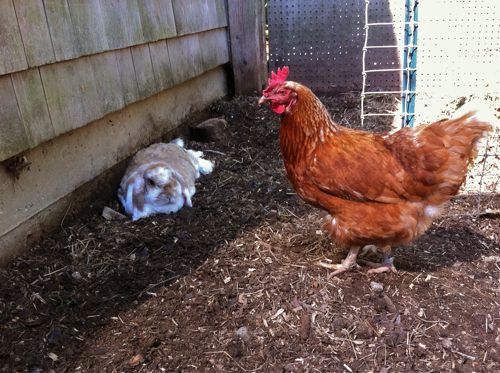 Keep your yard and coop raked and clean! Chicken manure gives off ammonia fumes and is caustic. You wouldn't want to breathe that air on a hot day, so don't make your chickens.
The coop itself can be a deathtrap. Too many new chicken keepers buy small coops that are advertised for urban backyards and "one to three chickens." They're basically covered nesting boxes. They have no air space and poor ventilation. They're not designed for hot climates and for three chickens packed in at night. Here is one chicken in an ark. She's broody. This is the only use for these coops.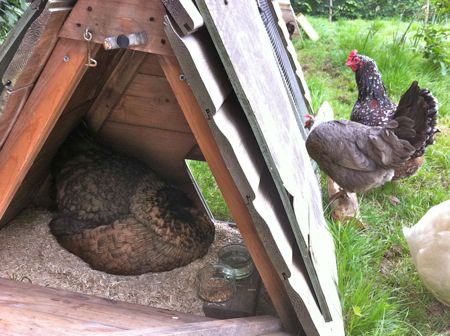 Even big henhouses can have ventilation issues. My HenCam coop didn't get the louvered eaves that I wanted, so I had a cupola added. Hot air streams up and out. On the worst days of the summer it's ten degrees cooler in there than it used to be.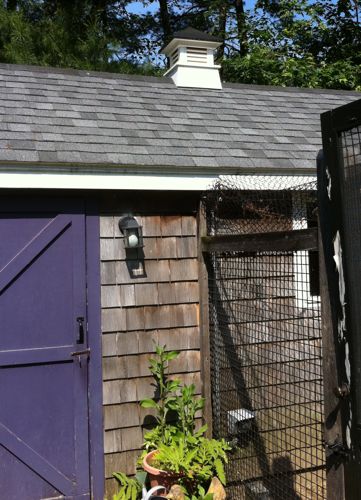 Still, without windows providing cross-ventilation, it gets oppressive in the coop, so on the worst of days I turn on a box fan.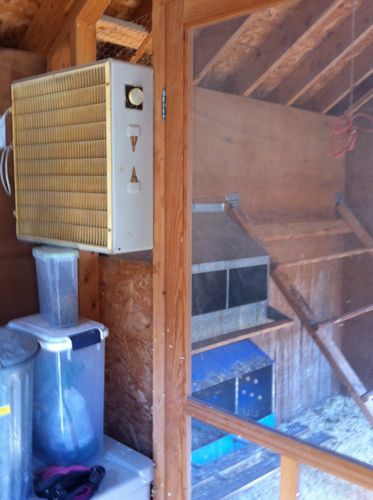 Implementing all of my suggestions doesn't guarantee that you won't lose a hen to heat stroke, but it will greatly reduce the likelihood of it happening.
An added benefit is that you might find that under the shade tarp with the hens is the nicest place to be. Put a chair out there, have an iced lemonade and have a visit with the hens. After a morning moving compost (I put the final six loads into the asparagus bed, and had two more to spread under my roses!) and then raking and cleaning the chicken yard (I do follow my own advice) I think I'll go out there right now.