Several years ago I made the mistake of letting Candy into the vegetable garden in the fall. The chickens were scratching around in there, clearing the soil of grubs and cutworms, so I thought that the rabbit would like a hop-around. But, instead of playing, she was just as industrious as the chickens – which was good for her but disastrous for my garden. Candy dug a tunnel under the asparagus, about six inches down and all the way across the six-foot bed. She ate every root.
Asparagus is a perennial vegetable that takes years to mature and establish. A gardener who grows asparagus takes the long and optimistic view. I admit that after Candy decimated my asparagus bed  that I didn't plant another. Asparagus requires room and it doesn't like competition. It requires a dedicated spot in the garden. Once Candy ate up the asparagus I decided I'd have a more productive garden growing other vegetables in that raised bed.
But, I've been missing homegrown asparagus, and a few weeks ago it dawned on me that I have the perfect place to grow asparagus, a sunny patch of  lawn behind the big barn. I had some raised bed corners leftover from the veg garden construction. Steve bought some lumber and built a 6 X 6 bed. Today I layered it with newspaper to kill the grass.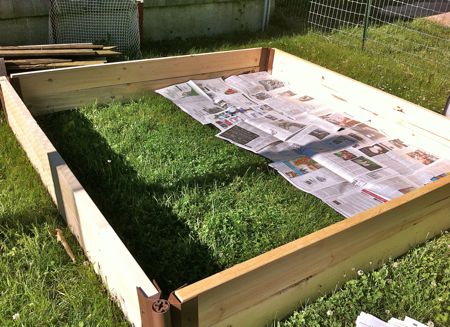 And then I began filling it.
The compost area in the HenCam chicken run has been due to be emptied. An asparagus garden was the perfect use for this: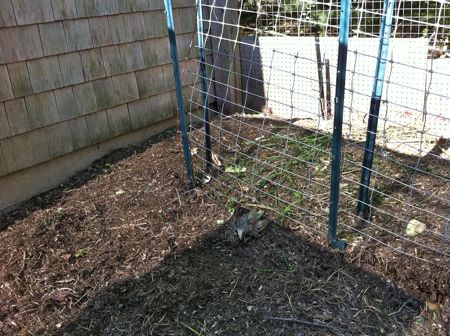 Ever since last summer this corner of the run has had garden waste, shavings and manure from barn cleanings, and kitchen scraps tossed in. The chickens do all the work of shredding and turning the material. The wire keeps them from kicking it all into the main part of the run.
It's gorgeous stuff.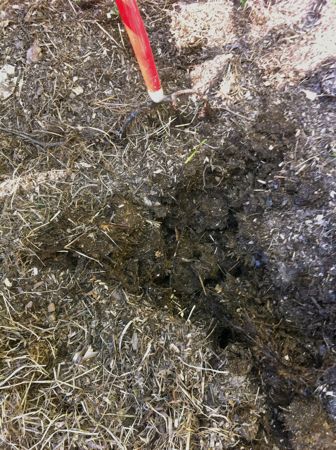 I loaded nine wheelbarrows with the compost and dumped it into the new bed. That was hard work! I've got another half-dozen loads before the bed is full, but that will have to wait for another day. Take a look at what it looks like now.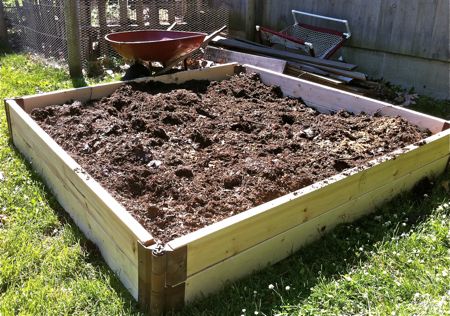 I've made a dent in the compost pile, but there's plenty more.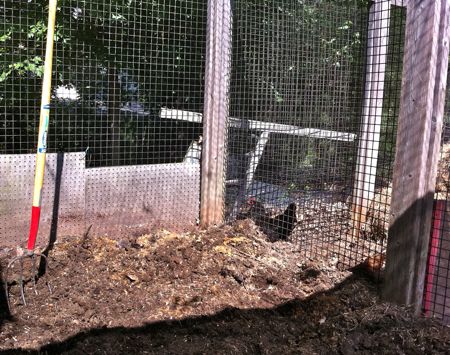 Asparagus is planted in the spring, but this bed won't sit idle until next year. I think it'll be perfect for summer squash. For once the zucchini won't take over my vegetable garden! I think I'll have quite the crop. I know how good the compost that my chickens make is. Last year I used some of it in my flower bed. I've never used fertilizers there. I don't have to. Here's proof.