Not all hens go broody. Hybrids, designed for laying, don't care a whit for their eggs after they've left them in the nesting box. But some hens want to sit. And sit. Even if the eggs aren't fertile and there's no chance of chicks, they'll sit. Even if they don't lay eggs themselves, they'll sit on eggs left by other hens. A broody hen will sit for far longer than the twenty-one days that it takes to hatch a viable egg. Twinkydink once sat in a nesting box for the entire summer.
A hen that's broody will pull out her breast feathers, so that her skin (which, by the way, elevates in temperature when broody) has direct contact with the egg. They'll flatten out. They'll be in a VERY BAD MOOD. Once a day they'll get off the nest, leave a humungous stinky pile of poo, eat, drink, and go back on the nest.
If you want the fun of hatching eggs and raising chicks, a broody hen will do the job. But most of us don't want that. We want pleasant hens laying eggs, not feathered furies occupying the nesting boxes.
I have two bantam White Leghorn hens. They are the "actresses who play Tillie." They have a job to do. They cheerfully meet children and let the little hands pet them. They're very good at this being as how they are sweet, friendly and pretty. But, Coco went broody as soon as the sun started to shine in the spring. Betsy had to handle several preschool visits without a backup. Then Betsy went broody. I have a storytime coming up in two weeks. So, Coco, the slacker, was popped into the broody coop.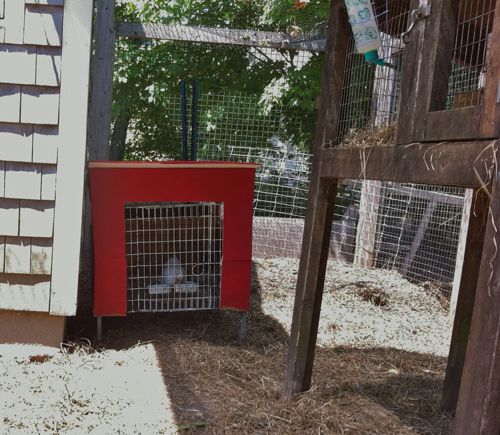 A broody coop has a wire floor, off the ground, so that cooler air circulates and brings down the hen's body temperature. She has food and water but no nest. You can return her to the henhouse to roost at night, but during the day, she needs to be back in the broody coop. It will take three days. She'll be really ticked off for the first two, and then by the third, she'll look bored and ready to get out. It did the trick with Coco. She's back with the flock, showing no interest in the nesting box.
Betsy is still broody. She's next.
Of course, there's no guarantee that Coco won't return to her bad habits. In fact, I'd bet a bag of feed that both of these girls will go broody again later in the summer. For now, though, at least Coco is back to work.