On Saturday Lauren Scheuer, my friend and blogger, came for iced coffee and conversation. Actually, her dog Marky came to visit Scooter and Lily, and he brought Lauren along. Where Marky goes, Lauren goes. Marky is a funny, scowling, chipmunk-hunting terrier. Scooter thinks he's a very cool dog. Lily thinks he should play with her more.
What all of them think is that I should be the one to pet them.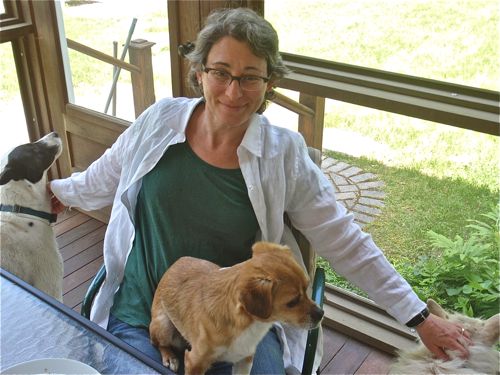 It's always been like this. I got my first cat when she bounded out of the woods and followed me home, despite the fact that I was taking a walk with three dogs who lived on my block. That was before I had my own dog, who started out as neighbor's dog, but chose to live with me. Dale was not allowed in the house (my parents took a long time to warm up to keeping pets) but nonetheless, she became my dog.
Animals who, I'm told, "don't like people much" walk across pastures to meet me. These old donkeys in England knew I was a good itch-scratcher.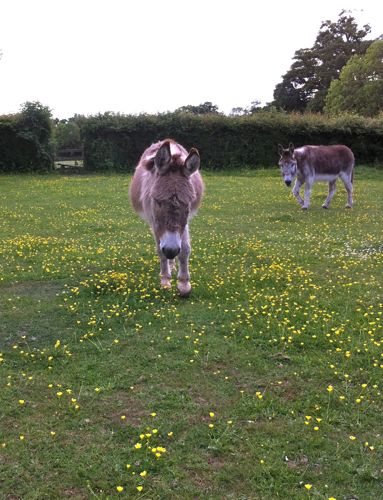 Karen Pryor was visiting the other day and we talked about this. She, too, is an animal magnet. If you watch Karen around animals you'll notice that she never stares directly at them, which, for almost all creatures, is a sign of aggression. Nor does she reach out, or grab, or hug. She doesn't talk much to them, either. What she does do is pay attention. To body language. To a flick of the ear. To a deep breath.
Many animal "whisperers" claim to have secret connections to their animals. There's nothing mystical about it. It's quiet observation. It's knowing the animal. It's relating to them the way they want to be talked to.
Take your emotional neediness out of the picture. Forget about "unconditional love" and reading human stories onto your animals. See them for who they are and you'll find plenty of stories, which are more true and more fascinating than any that you invent. Pay attention. Take a step back. And the animals come to you.