Blackie had been ill for a long time. Like many older animals, she walked stiffly and rested frequently. At the age of six she was well past the end of her productive life, but I'm not a farmer that has to have each animal contribute to the bottom line and so we kept her on. She was part of the fabric of the backyard community.
But, in the last two months, I questioned whether her continued longevity was the right thing. The other chickens knew that she was on the outs. They pecked her back unmercifully until there was raw flesh, unprotected by feathers. I put her in a separate coop. The feathers grew back, but not her strength. She couldn't stand for more than a few seconds at a time. Still, her poops were normal, she was eating and drinking, and Eleanor sat by the coop, keeping her friend company.
You can't always "let nature take it's course." We've already altered nature. A chicken, after all, is a domestic farm animal. It depends on us for food and protection and I like to think it appreciates the home we give it. Leave a chicken to it's own resources in the wild of my backyard and it would be dead within days. The chickens stay alive because of my good care, and sometimes, they die because I deem it the time to go. I've had many sick chickens and watched some die. If you wait for that "they've given up all hope" look in their eyes, you're unlikely to see it. Yesterday it appeared that Blackie had her final stroke. A wing fell limp to her side. And yet she pecked at corn and turned a black, shiny eye to the outside world. She was not going to tell me that she'd had enough. I've seen a severely wounded chicken act as if she was not in any pain. Chickens could teach the fire-walking, sleep on a bed of nails swamis a thing or two.
Because I have coddled this hen, she was already alive for far longer than she would have if I'd let "nature take it's course." I'd already saved her from being killed by the flock. Her water was laced with antibiotics so the mycoplasma wouldn't infect her. She had food and water nearby so she didn't have to stand up. I dusted her with louse powder because she couldn't dust bathe.
Blackie wasn't going to look me softly in the eye and plead to go.
Steve took her out of her coop yesterday and sat her on the ground. She pecked at some grass and ate. She tried to stand but couldn't. She was no longer capable of doing even one behavior that mark a chicken as a chicken. No dust bathing, no roosting, no scratching in the dirt. It was time.
Because you'll ask, I'll tell you how Steve did it. He does a quick neck pull near the skull. Blackie was so on automatic pilot that, although dead, her heart kept beating for awhile. It's brutal to watch, even if you've seen it before. He buried her in the meadow next to Lulu.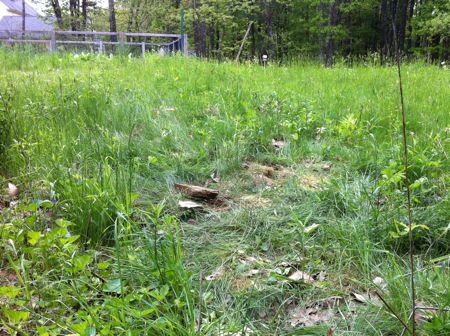 Blackie was a good big basic black laying hen. She wasn't a favorite like Lulu, but we were happy to have her in the flock. I knew, when I ordered the chicks this spring, that Blackie would be gone by the time they were laying. Chickens don't last long, but their leaving is always hard.