In just a week away:
The chicks turned into baby pterodactyls. Look at those feathers and scrawny necks!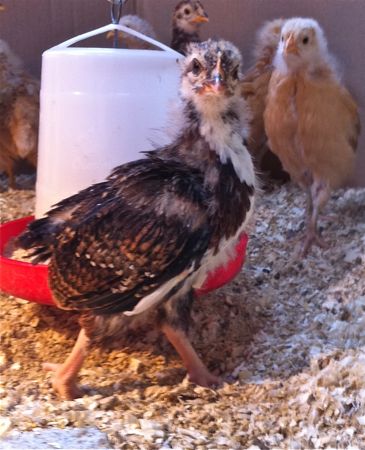 As the adult feathers emerge, vast quantities of dander is created. A sticky dust layers the barn. I'm grateful the chicks aren't in a brooder in the house.
The smallest blue cochin remains weak and half the size of the others, but she is still hanging in there. If she survives, she's going to be a gorgeous slate gray.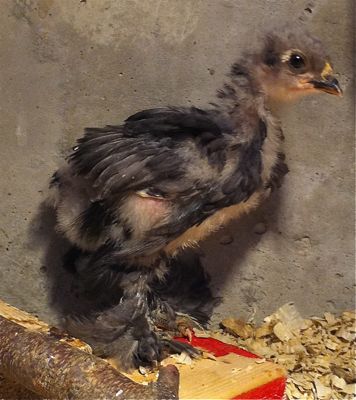 The others are robust and voracious eaters. I love that they are catching mosquitos that fly by! We sure have enough of those nasty bugs – rainy and dark days are prime breeding times. Speaking of bugs, I picked up a tool, which angered a wasp hiding on it. Got stung on my right palm, which has made it difficult to do anything for the last day. Amazing how it can be itchy and painful at the same time. Luckily, I'm not allergic, so no trip to the hospital – just poultice after poultice of baking soda.
Also in the last week:
Flowers bloomed.
The washing machine broke, then Steve fixed it, and now I'm on my sixth load of laundry, with at least three more before I'm caught up (I'll spare you the photo.)
Hens got sick. Some got better, some didn't. Chores are longer, what with putting antibiotics in the water, and keeping Candy out of that same water. (I'll have an update later in the week about the mycoplasma saga.)
Blackie took a turn for the worse. Decisions to come there.
The vegetable garden grew. Seedlings needed thinning. Oh, how I hate that job of pulling up healthy plants. Of course, if I don't thin, I won't have any carrots at all. Luckily, the boys adore carrot tops. Their happy munchings and burps turned the hated task into something fun.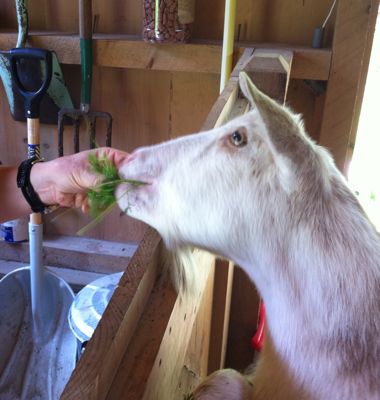 I'm sowing flower seeds and planting tomatoes, preparing the pumpkin patch and pulling dandelions. I was away only a week, but I feel a month behind. I suppose I can't blame the trip entirely – springtime is like that, isn't it?