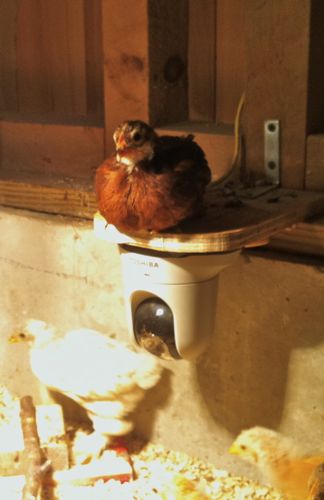 The other chicks are content to run about in the brooder and perch on the branches in the coop. Not this one. She's discovered the HenCam mount and very much likes the view. I wonder if she'll be a "top hen" and lord it over the others when full-grown? So far, pecking order seems to be entirely about size. But, I haven't sat and watched for any length of time, so there's probably more going on than I've noted. I've been concerned about spreading the mycoplasma to the chicks and so do my chores quickly and leave them alone. However, soon they'll be flapping over the cardboard walls. It's time to dismantle the brooder and let them have the entire big barn coop to explore. I'll get to that task this week.
The weather has been dark, damp, rainy and chilly. But, last weekend there was a break and we gave the chicks an outing in their run. I handed the chicks off to my son, who set them down in the reseeded and grassy pen.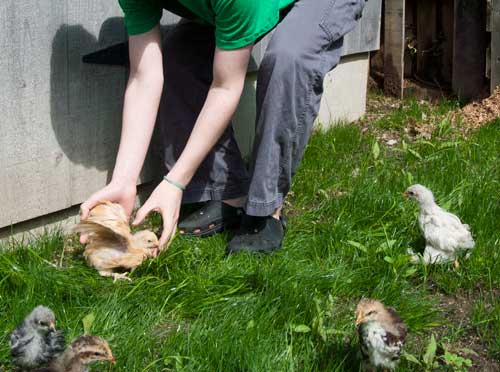 They found the edges with dirt and worms. This girl knew exactly what to do without any help from me. See the worm? She does!
A good time was had by all. Even the little blue cochin.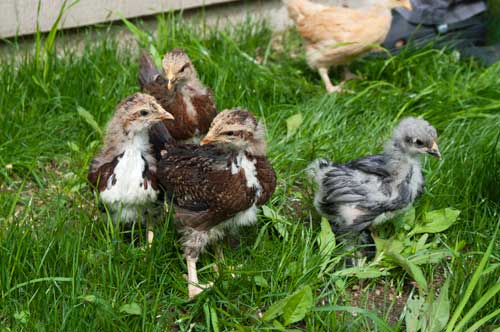 Lily was very interested in the chicks. She's known that they were in the barn, but hadn't had a chance to meet them.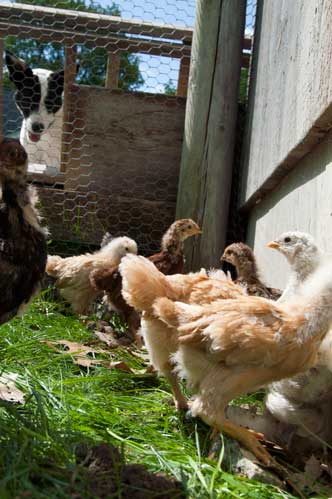 I can train Lily not to gallop along the fence, causing the birds to startle (a game she'd love to be allowed to do) and I can even teach her not to toss the chickens about like rag dolls. But, since training is never 100% I won't ever take the risk and allow them to meet without a fence between them. Not all dogs are as movement-reactive as Lily. I know plenty of dogs that are fine with mature hens; my late, great Nimbus (an Australian Shepherd/Husky and the best dog in the world, ever) used to follow the chickens around and eat their poop (well, she was the best dog, but not perfect.) Lily chases hawks out of the sky. She's a good dog, too. Even if she thinks that the chicks are squeak toys.