My goats are short and tubby. Depending on the time of day their bellies will be round or rounder. If they've just eaten, their left sides (where the first of their four stomachs is) will stick out further than the right. My goats, being Nigerian Dwarf Dairy Goats, are beautiful, but not exactly svelte and agile. See what I mean?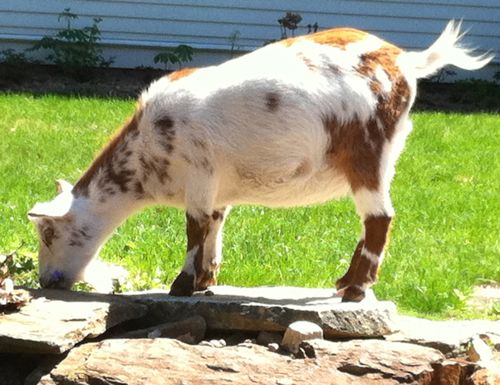 We all know that superheroes have have meek daytime selves. Who'd have thought that geeky Clark Kent could fly and have x-ray vision?
My goats have superpowers. They can squeeze through anything. Of course, like any good superhero, you never actually see them doing it. You never see Clark Kent in his undies while he's changing, do you?
On Saturday Steve noticed that Caper was grazing on the lawn. Pip was still in the paddock.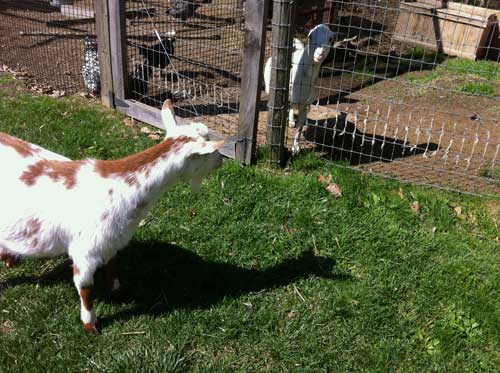 Notice that the gate is closed.
Look closely, though, and you'll see that Caper had lifted the chain on the bottom off it's hook. That's not a superpower act – that's simply being a clever goat.
Still, it takes superpowers to squeeze through that gap. Caper, the main superhero goat, had gone first. His sidekick, Pip was all set to follow.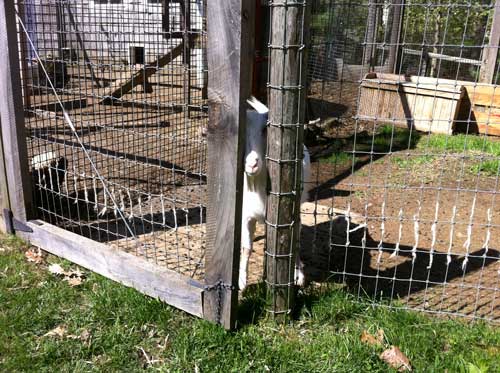 But, Steve was now watching. So, Pip looked all innocent and bleated to be let out. A superhero never gives up his secret.